Street artist Maupal meets students of Rome International School.
The International Baccalaureate Primary Years Programme (IB PYP) is a transdisciplinary programme for children from 3 to 11 years of age. It is recognised worldwide as one of the most advanced international programmes for elementary schools. The PYP encourages children to take responsibility for their own learning and build their skills to become lifelong learners.

Students in the final year of the PYP, Year 6 at Rome International School, carry out an extended, in-depth collaborative project known as the PYP Exhibition. This involves students working collaboratively to conduct an in-depth inquiry into a real-life issue or a topic of personal significance. Teachers initiate, facilitate and guide the exhibition process while all students taken an active role in all aspects of inquiring, investigating, communicating and assessing their learning. The Exhibition represents a unique and significant opportunity for students to exhibit the attributes of the IB Learner Profile developed throughout their engagement with the PYP. It also provides the wider learning community with an opportunity to celebrate the transition of learners to the next phase of their education. [The Learner pg. 41 IBO, October 2018].

To assist some Year 6 students with their Exhibition topics, Ms Buccedi, the Early Years and Elementary Librarian, invited Maupal, a famous street artist to speak to both the classes about his work and inspiration. It was an interactive and engaging session where all students asked plenty of questions and shared their reflections.

"I was very happy with Maupal's visit because l believe that learning from an expert is one of the most interesting and valuable experiences that students can have. Maupal is a great communicator and he was able to share his skills and knowledge and answer their questions in a clear and engaging way." - Ms Buccedi, Early Years and Elementary School Librarian, Rome International School.
Lola and Margherita, two ten-year-old students in Year 6K, report on the visit.
On Friday 29 March 2019, Maupal a contemporary Roman street artist came to our class because our Exhibition topic is on street art and graffiti. We considered many topics before choosing street art because this is the topic that interested us the most and which we wanted to learn more about. Ms Buccedi called him in as they have been friends before Maupal rose to fame following the Pope Francis murals, which started his career as a street artist.
Maupal's real name is Mauro Pallotta. When he came we were all excited to meet a real street artist! Maupal explained that street art always sends a message and we agree. This is one of the main differences between street art and graffiti.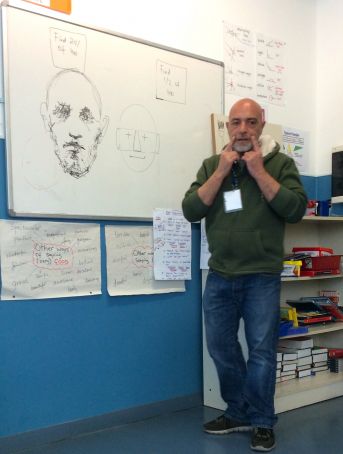 He told us about a lot of techniques and tools that street artists use: brushes, stencils, spray paint and normal paint; Maupal usually uses brushes.
When he creates murals without permission, he first prepares the art at home so that it can be 'pasted' on the walls quickly before the police take it off. Street artists make illegal street art because they prefer sending a good message but going against the law, instead of sending a good message where not many people can see it. He chose street art because some people do not have the opportunity to go to museums.
On the whiteboard he showed us his technique for drawing a face, which everybody then tried to follow. Giada and Irene our classmates agreed that, "the most unexpected part was when he turned four scribbles on the board, as if by magic, into a beautiful face."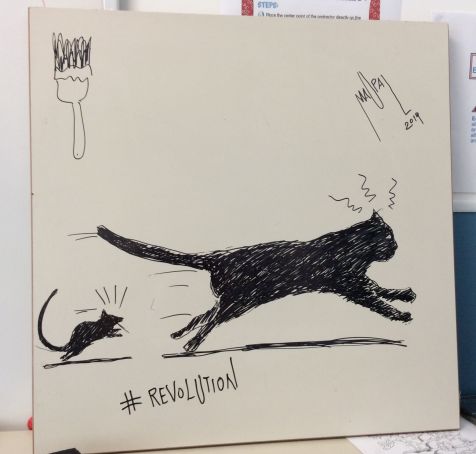 His next illustration was a mouse chasing a cat, which he explained represented a revolution, because usually it is the cat that chases the mouse.
We are so happy that he came because we learned so much! We are now creating our own piece of street art and we are thinking about the message that we want to share.
This article was published as part of the Wanted in Rome Junior series in the May issue of Wanted in Rome magazine.
WANTED IN ROME JUNIOR: For young writers and artists

Wanted in Rome is accepting creative contributions from students in all international schools in Rome. Articles on topics related to either the student's life in Rome or their school projects can be submitted by their class teachers. The work should be no more than 1,000 words and all contributions should contain the name, age and school of the students. We also accept illustrations. Any class teachers who would like to propose a project please contact editorial@wantedinrome.com.
General Info
Address
Via Guglielmo Pecori Giraldi, 137, 00135 Roma RM, Italia
View on Map
Wanted in Rome Junior: Maupal comes to Rome International School
Via Guglielmo Pecori Giraldi, 137, 00135 Roma RM, Italia