This page is open to young writers.
Maria Nyana'aar, a Year 11 student at St George's British International School Rome, won the ARTiculation Prize Italia competition organised by the British Council. The competition requires students to talk about a work of art by a British artist who had exhibited at the Venice Biennale. Wanted in Rome Junior publishes the notes used in Maria's winning speech.
I wonder if one day, I disappeared what would be the significance. Ask yourself, if you were to disappear anytime, how about the people left behind?
…
My name is Maria Nyana'aar and I will be discussing the painting No woman, No cry by Chris Ofili. The title already gives you a hint about the tone – the title is a song; yet it is a painting of a woman crying.
The woman in this picture is the mother of Stephen Lawrence, Doreen Lawrence. Stephen Lawrence was killed on 13 April 1993; it is one of the highest profile racial killings in UK history. He was stabbed as he walked to the bus stop in South London and later that day he died due to excessive bleeding. This sparked widespread protest throughout the UK and put pressure on Scotland Yard to bring to justice those responsible for the crime. Finally, 21 years later, the perpetrators were convicted; in 2012.
When I hear about such cases of innocent teenagers like me and many others, I am engulfed by a sense of fear. That my skin colour could cause my death sentence. Ask yourselves, parents in the audience, do you feel safe everyday as you send your children to school or leave them at home? I don't know about you, but a black woman has to be constantly alert. She has fear in her heart from the day she is born to the day her son dies and no justice is served. Her prayer is: "Don't let my son be shot down in the street; don't give me one less child at the dinner table." Every day before he leaves, the son leaves with a warning and a growing fear that everyday might be his last merely because of the pigment of his skin.
This painting depicts the aftermath of the heinous crime; it shows the mother left behind to weep. When I look at this painting I see pain; I see insurmountable grief and, above all, I see the strength of a woman.
This painting is in some ways typical of Ofili's works. However, unlike many of his other works the use of the bright colours against the dark pigmented skin of the subject creates a beautiful contrast. Ofili was inspired to paint Doreen because of her resilience, bravery and the dignity she possessed in a time of hardship, chaos and injustice. As we look closer at the details, Ofili's excellent use of colour and media portrays a story that is astounding. I was immediately drawn to the hues of red and yellow which reminded me of a flame; a flame violent enough to burn down a city, strong enough to warm a cold night, fierce enough to set the oppression we blacks receive ablaze. And just like the flame, Doreen's face shines through the darkness, injustice and adversity. The use of the golden background leads the onlooker to presume it is an aura of light. However, as we delve deeper into the painting, and begin to unravel its layers, and analyse the facial expression, we recognise a sense of courage in her tears. Her head lifted high and her lips pursed are both indicators of her courage and, though her happiness was taken away, she has refused to give in or to keep her head down; instead she is shown raising her head high to the sky so that she is closer to her son. You can almost feel his flame from above, its warmth and in every tear Ofili has placed a portrait of Stephen Lawrence.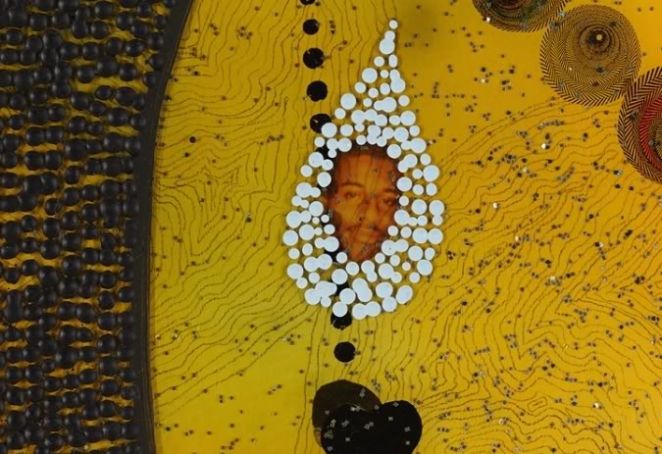 The vivacious colour isn't the only thing typical of Chris Ofili's works in this painting: his frequent use of elephant dung in the majority of his work was triggered by his first trip back to Zimbabwe where he witnessed elephant dung being used at tribal rituals. It signifies rejuvenation, birth and fertility. Since then he has adapted its use in many of his artworks. Here the painting is supported by two spherical balls of elephant dung and Doreen's necklace has, at its centre, another spherical ball. The elephant dung in my opinion represents womanhood and a deep connection with their offspring. After discovering the significance behind the dung, a whole new chapter of the painting was revealed. Though Stephen might not be physically with her anymore, his memory will live on in her heart fuelling her passion and her desire for Justice. His memory shall not be one of misery but one that shines a light on the unjust world and systems that we live in today. And the flame in his mother's heart that continues to burn furiously will spark a flame in a fellow woman's heart to fight for justice and truth. The same flame that sparked a flame in Chris Ofili's heart to fight for justice through his artwork.
Let's take a step back and take another look. The geometrical patterns all across the canvas reminded me of a cage. The message Ofili may be trying to portray through this art work is that the black woman is trapped, oppressed because her skin is the hue of ebony and even worse, she is a woman. The black woman, the oppressed, the unwanted woman. From the day of her birth to the day of her death, she is plagued by the notion of fear because she is a woman. Maybe this portrait represents a black woman or even motherhood, perhaps even the strength of a woman. For we women are often the ones to suffer the consequences of adversity. This is a portrait of every woman, the grief she feels behind closed doors, caring for others but not being cared for.
And as we step further back, we see the painting in a completely new light or shall I say darkness? As we look beyond the colour, into darkness, we see the words 'RIP STEPHEN LAWRENCE', the dates of his birth and his death. Barely visible to the naked eye in normal light, Ofili used phosphorescent paint to create this effect. In my opinion, this painting is an extended metaphor of humanity itself. For if we look beyond the layers of colour, if we look beyond the barriers of race then maybe somewhere behind the ignorance, is the way: the answer to peace. However, if like Ofili, we appreciated colour and in the appreciation of it we used it to make something beautiful; if we appreciated every skin tone as beautiful and recognised that diversity makes this world beautiful, then surely we could fight the injustice, hate and oppression of black women, all women and all those deemed different.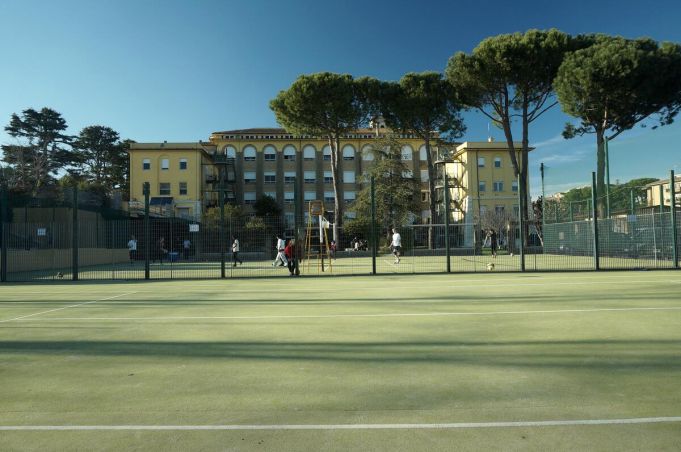 Wanted in Rome Junior. Wanted in Rome is accepting contributions from students in all international schools in Rome. Articles on topics related to either the student's life in Rome or their school projects can be submitted by their class teachers. The work should be no more than 900 words and all contributions should contain the name, age and school of the student. We also accept illustrations. Any class teachers who would like to propose a project please contact editorial@wantedinrome.com.