120 Rome train stations to be transformed by street art.
A total of 120 train stations in and around Rome will be decorated by street artists thanks to the project Arte in stazione e città a colori.
The initiative is being organised by retired railway worker Francesco Galvano along with several volunteer associations including Rome artist collective Kill the Pig.
The project began recently with a fast-paced mural by Jerico of racing dogs along the underpass at Settebagni station north of Rome.
The second mural, also at Settebagni, was by up-and-coming artist Andrea Gandini who created a Pinocchio character which carves itself out of a fallen tree. Gandini is becoming known for his tree stump sculptures around the capital and recently spoke to Wanted in Rome on the subject.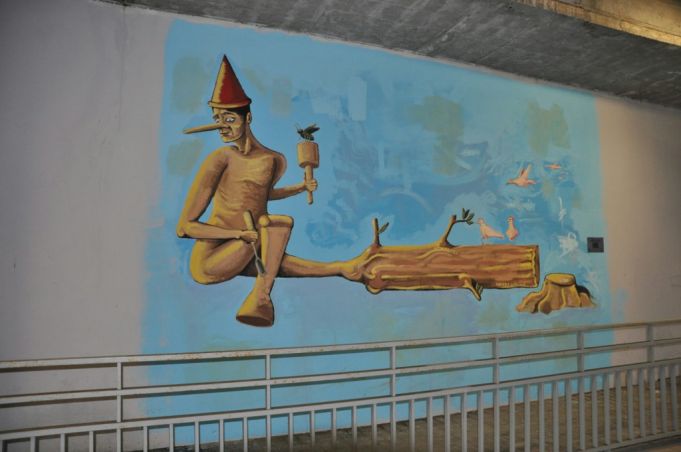 The next station to be decorated is S. Pietro, where Mr Klevra will paint the entire 70m-long wall that runs along the train tracks. Last summer Mr Klevra gained acclaim for his religious-style image S. Maria di Shanghai as part of the successful Big City Life project in Tor Marancia.
The station's location near the Vatican may have been a deciding factor in assigning it to the publicity-shy street artist who also happens to be an expert on Byzantine iconography.
The exterior of the same station was recently enlivened by Portuguese artist Bordalo II who created the monumental goat's head Uma Cabra, using discarded mechanical parts and paint, as part of the Forgotten project.