Young artist allows Rome's tree stumps to "live again".
Andy Devane
Rome is well known for its street art which has enlivened the city but now another art form is taking place on the streets, much nearer the ground.
In recent weeks residents in districts such as Aventino, Testaccio and Ostiense have noticed faces carved into dead roadside tree trunks. The artist responsible for breathing new life into these lifeless stumps is 18-year-old student Andrea Gandini, whose passion for sculpting clay and plaster has been honed at a Roman liceo artistico, a high school which puts greater emphasis on art.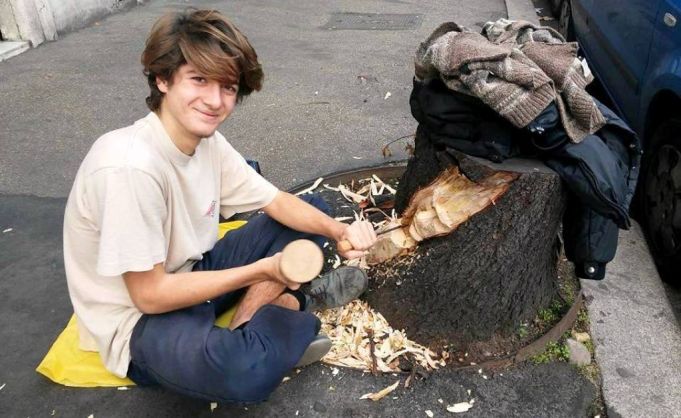 The young artist recently turned his hand to carving wood and, one day when he ran out of materials at his garage workshop, he decided to carve into a trunk outside his house. Now, after school or at the weekends, he packs up his bag of chisels and can be found chipping faces out of what were once living plane trees, a process Gandini describes as "allowing the tree to live again." Despite the location of his work, he says he doesn't consider himself a "street artist", and voices his annoyance at artists being pinholed into categories.
Gandini enjoys the reaction of passersby who often do a double-take before stopping to take photographs and engage him in conversation. However so far he has not been questioned by authorities and has "never been worried" about seeking authorisation from the city.
Gandini says that while he is not the first person to undertake this form of carving, the pecularity of his project is its urban setting. As for his technical requirements, he says that each stump must have a sufficient width and hardness and not be too rotten internally, adding: "in essence the timber must be as near as possible to the type of seasoned wood suitable for carving."
Gandini thinks big and is appealing to residents to notify him of tree stumps to decorate all around Rome. "Once this data is assembled I hope to muster a team of [sculptor] volunteers to bring about a fast, effective and diverse decorative operation."
The artist is contactable through his Facebook page Andrea Gandini (artist) while his work can be found on the Aventine hill in front of the Basilica di S. Sabina, along Circonvallazione Ostiense, and on Via Marmorata in the Testaccio district.
This article was published in the February 2016 edition of Wanted in Rome magazine.