Sagra degli Spaghetti all'Amatriciana returns to hilltop town north of Rome.
The popular festival of spaghetti all'amatriciana, the dish that put Amatrice on the culinary map, returns to the north Lazio town on the weekend of 31 August to 1 September.
The hilltop town, which was devastated by an earthquake in August 2016, celebates its "story in an extraordinary dish" according to the mayor of Amatrice, Antonio Fontanella.
The festival has been running for about half a century but missed two editions in 2016 and 2017 following the 6.2-magnitude earthquake that killed 299 people in the area.
The two-day Sagra degli Spaghetti all'Amatriciana will be serving plates of the classic pasta dish from 12.30 until 21.00 each day, accompanied by numerous events including live music, theatre and dancing, as well as a stand offering gluten-free amatriciana.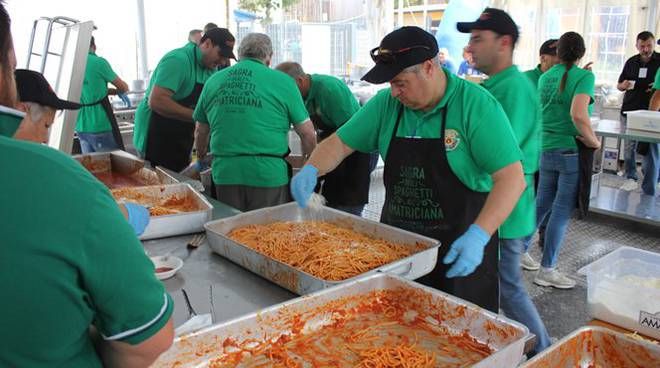 The Amatriciana is a development of Gricia, a simple pasta dish invented by local shepherds which utilized the most prevalent ingredients of the mountainous region; guanciale (cured pig cheek) and pecorino cheese.
As the shepherds travelled around during transhumance they spread the recipe for Gricia across the area. Towards the end of the 18th century, tomatoes were added to the dish and the Amatriciana was born.
To get to Amatrice, located a couple of hours north of Rome, take the SS4 Salaria, turning for Amatrice at km 132. The town can also be reached by Cotral bus from Rome.
For full details see Comune di Amatrice website, while to try making Bucatini all'Amatriciana at home, see our recipe.
General Info
Address
02012 Amatrice RI, Italia
View on Map
Spaghetti all'Amatriciana festival returns to earthquake-hit Amatrice
02012 Amatrice RI, Italia