Sacchi murder in Rome: two suspects arrested
Two suspects transferred to Rome's Regina Coeli prison.
Rome police have detained two suspects in relation to the murder of Luca Sacchi, a 24-year-old personal trainer who was shot in the head on a street in the capital's Colli Albani area on the night of 23 October.
The suspects, named in the media as Valerio del Grosso and Paolo Pirino, aged 22 and 21, are from S. Basilio, a Roman suburb notorious for drug-related crime.
The pair were tracked down after the mother of one of the suspects told police that she feared her son was involved in Sacchi's murder.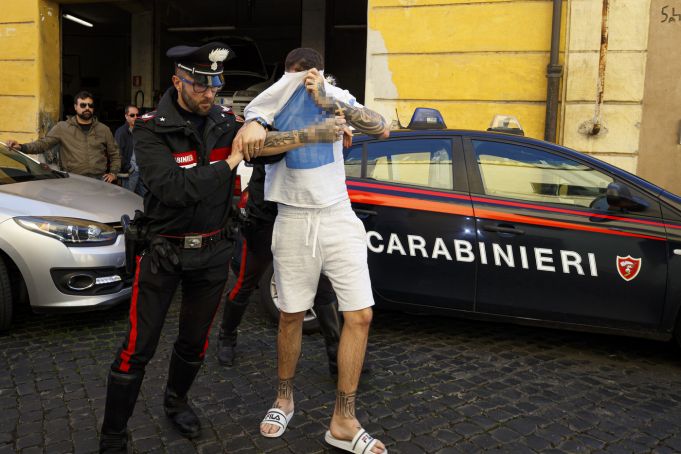 Italian news agency ANSA reports that the man who allegedly shot Sacchi does not have a criminal record while the other man has been convicted in the past of drugs offences.
Local media is reporting that Sacchi was shot during a robbery that ensued following a drug deal that went wrong. The suspects, reportedly drug dealers who were driving around the vicinity of a nearby pub looking for customers, are thought to have offered to obtain drugs for Sacchi and his girlfriend Anastasia Kylemynk.
Drug links
According to media reports, when the dealers asked the couple to show they had money, Anastasia opened her bag, inside which the pushers allegedly saw a large amount of cash.
The dealers returned to their car but came back to the couple armed with a baseball bat which they used to hit Anastasia before grabbing her backpack. At this point Sacchi intervened to defend his girlfriend and in the ensuing scuffle he was shot in the head. The dealers fled the scene in a Smart car, and Sacchi died from his injuries the next day.
Kylemnyk, originally from Ukraine, told the news channel of the Italian state broadcaster RAI on 25 October: "Drugs didn't come into it. Luca never met the pushers...Luca protected me as he always did, he put the man on the ground and perhaps because of that they got scared," she said.
Political dimensions
Police chief Franco Gabrielli said that security should not be used as a political football, following a spat between the far-right Lega leader Matteo Salvini and Italy's premier Giuseppe Conte.
After Salvini linked Sacchi's murder to alleged funding cuts to the capital's police force, Conte denied there had been any cuts and said: "If someone allows themselves to exploit such an event as part of an election campaign, I find it despicable."
Gabrielli acknowledged that Rome had its problems but insisted it was "not Gotham City".
Cover photo TGcom24
General Info
Address
Via Franco Bartoloni, 75, 00179 Roma RM, Italy
View on Map
Sacchi murder in Rome: two suspects arrested
Via Franco Bartoloni, 75, 00179 Roma RM, Italy