Rome's dead Christmas tree reported to audit court
Consumer group file report over Rome public funds spent on "dead tree".
Consumer watchdog Codacons has filed a report to the audit court over the use of €48,600 of taxpayers' funds for Rome's lifeless and increasingly threadbare Christmas tree in Piazza Venezia.
Experts say that the tree should have survived in good shape for more than a month however it is believed that the tree was damaged during the 600-km journey from Trentino in northern Italy and was installed incorrectly in Rome.
Photographs show a healthy 21-m high red spruce leaving the forest in Val di Fiemme, the region which donated it, however the tree may have shed most of its needles en route, in addition to having branches broken during its installation on 7 December.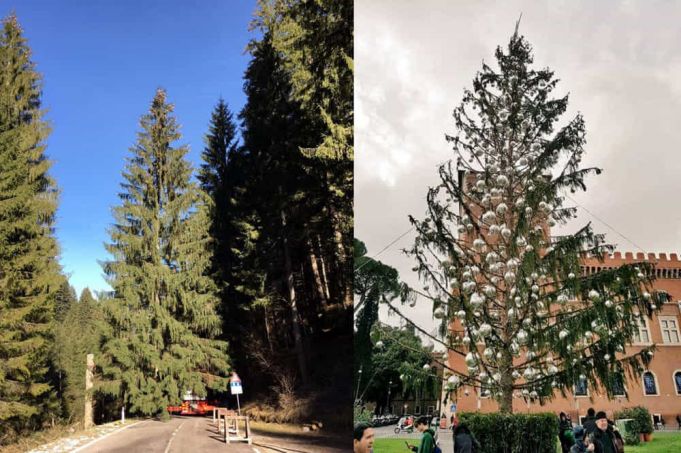 Romans quickly christened the unfortunate Christmas tree "Spelacchio", translating roughly as "mangy" or "threadbare", before a separate controversy broke out: although the tree was donated, Rome paid almost €50,000 of taxpayers' funds for its transportation, bypassing public tender in the process, and paying more than three times the €15,000 fee for last year's tree.
The capital's environment councillor Pinuccia Montanari initially hailed the tree's "elegance and simplicity" however the city has since admitted that poor Spelacchio has suffered a premature death.
Opponents of Rome's mayor Virginia Raggi of the anti-establishment Movimento 5 Stelle wasted little time in using the dead tree as a metaphor for her allegedly poor administration of the city.
Spelacchio
has been the subject of
ridicule on social media
, even prompting calls for its burial at the
Pantheon
, a reference to the recent unsuccessful campaign by the Savoy family to have the remains of controversial Italian king Vittorio Emanuele III buried there.
Meanwhile the city council has sought to remedy the situation by announcing the installation of a crib on 21 December, four days before Christmas Day, at Piazza del Campidoglio in front of the city hall offices. The nativity scene, on display until 7 January, will comprise recently-restored crib figures found in the warehouse of the
Centrale Montemartini
museum in the Ostiense district.
However the crib is unlikely to deflect the controversy surrounding Rome's Christmas tree, which has caused debate for the
second year in a row
and has been reported in a negative light in the international media.