Rome sends in falcons to tackle city's starlings
Rome's starlings cause havoc for motorists on Lungotevere.
Rome city council has drafted in the help of falconers to move some of the wintering starlings - whose numbers are estimated between 1.5 and four million - away from central areas of the capital, according to reports in local media.
The "natural deterrent" concept involves falcons being placed in trees used for roosting by Rome's starlings, particularly along the Lungotevere, part of which was closed to traffic in recent days due to the excessive amount of starling droppings.
The birds' foul-smelling, oily guano can make the Lungotevere an inhospitable place for pedestrians, cyclists and motorists, particularly the stretch between Ponte Sisto and Ponte Garibaldi.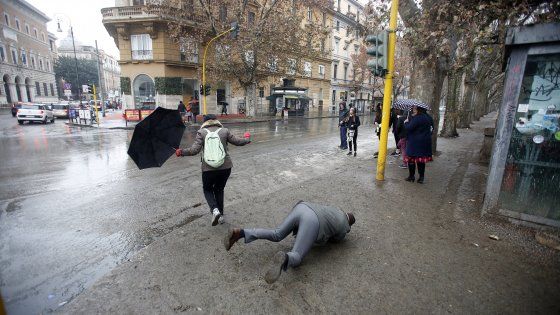 Rome has used falcons to combat starlings for several years, in addition to its "distress call" campaign, an amplified alarm that mimics a call of danger used by starlings in the wild.
Two years ago the city carried out radical pruning of the trees in the little park at Largo Cairoli, putting a temporary end to a starling stronghold in the city centre, near Largo Argentina. However the trees have since grown back and the birds have returned this winter, creating problems for pedestrians in the area.
In recent decades Rome has witnessed a dramatic rise in starlings which are attracted by the city's artificially-high urban climate, less rainfall and wind, and the virtual absence of predators.
The birds are also known for their spectacular swirling flight patterns which are sometimes the result of an attack by one of Rome's Peregrine Falcons whose population continues to increase after decades of being an endangered species. See related article.
Cover photo La Repubblica