Lupa mural in Pigneto was used in Rome launch of Neflix series Suburra.
An allegorical mural depicting an emaciated she-wolf, the symbol of Rome starved by the greed of state, church and crime, has been removed from Rome's Pigneto suburb a year and a half after it appeared near the area's Metro C station.
The largescale Lupa mural, painted in October 2017 by Modena street artist Luca Zamoc, was commissioned by Netflix to promote the launch of its Rome-based crime series Suburra, a spin-off of Stefano Sollima's 2015 film of the same name.
Zamoc's landmark mural has been painted over and the wall is now being used to host advertising billboards. According to a contract with Netflix, the mural was to remain for one year, with residents of the building even receiving a "hosting fee", according to daily Italian newspaper La Repubblica.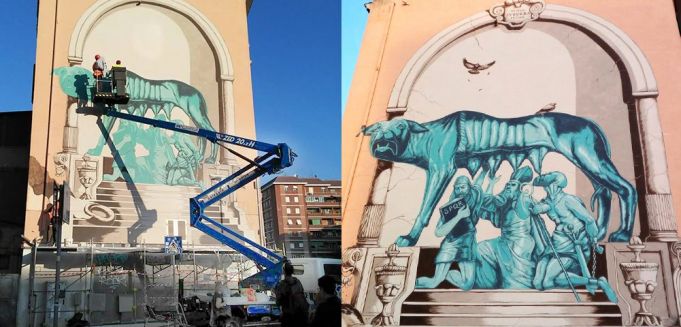 The organisation that curated the work, MURo Urban Art Museum of Rome, sought to intervene between the various parties to allow the mural to stay however it ultimately failed in its efforts.
MURo founder, the well-known Roman street artist David "Diavù Vecchiato, explained to La Repubblica: "The condominiums had never shown themselves to be much lovers of street art, and had accepted the work only because it was tied to a precise deadline."
As for Zamoc, he sees a certain irony in the situation: "The controversy over the wall has always been dictated more by the combination of street art with advertising than by the message of the wall itself. But now that the mural is gone everyone complains, because suddenly people realise that a work of art has been removed, not an advertisement."
The removal of Zamoc's mural coincides with the recent launch of the second series of Suburra.
General Info
Address
00176 Rome, Metropolitan City of Rome, Italy
View on Map
Rome removes Suburra mural in Pigneto
00176 Rome, Metropolitan City of Rome, Italy