Sit-in set for 3 September.
A demonstration to protest the ostentatious funeral of the mafia boss, Vittorio Casamonica, is being called for 3 September.
The heads of Rome's 15 municipal districts have said that they will support the sit-in at the church of Don Bosco where the funeral of the head of the notorious Casamonica family was held in Piazza Don Bosco on 20 August, when most of the city was deserted for the Ferragosto holiday.
The church of Don Bosco is off Via Tuscolana in the Cinecittà area of Rome.
The lavish, film-set funeral, with black horse-drawn carriage, rose petals dropped from a helicopter and crowds of mourners, has further reinforced the image of Italy's capital as a city without any proper leadership or control.
Rome's prefect, Franco Gabrielli, has called a meeting of the forces of law and order for Monday 24 August. He has already requested clarification from the police, the carabinieri and the city government about the event.
The city's mayor Ignazio Marino is still officially on holiday.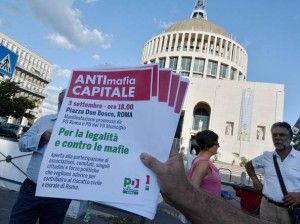 In a visit to Naples in the spring Pope Francis came out strongly against the mafia and official Church policy is against lavish funerals for mafia bosses.
The priest at the church Don Bosco is reported as saying that he had no control of what happened outside his church. The bishop in charge of that part of the city has said that he knew nothing about the funeral, that he had not been warned by the police and that if he had known he would have stopped the show.
In an article condemning the spectacular aspects of the funeral the Vatican newspaper Osservatore Romano has carried a comment from the archbishop of Catanzaro-Squillaci, Vincenzo Bertolone, that while the religious rites can not be denied mafia faithful, the funeral itself must be simple.
Archbishop Bertolone is the postulant for the canonisation of Pino Puglisi, the priest who was murdered by the mafia in Palermo in 1993.