Killing of mother bear is disaster for Italy's critically endangered Marsican bears.
An investigation is underway after a female Marsican bear known as Amarena was shot dead in Italy's central Abruzzo region on Thursday night, park authorities announced.
The killing of Amarena, a much-loved symbol of Abruzzo, is a serious blow to the survival of Italy's critically endangered Marsican bears which only number about 60.
The bear, mother to two young cubs, was killed near San Benedetto dei Marsi, outside the National Park of Abruzzo, Lazio and Molise (PNALM), a vast protected area home to the last remaining Marsican bears.
The park's emergency veterinarian team rushed to the scene but the animal, which was under surveillance, was already dead.
The man who shot Amarena was identified by park rangers and was handed over to carabinieri police.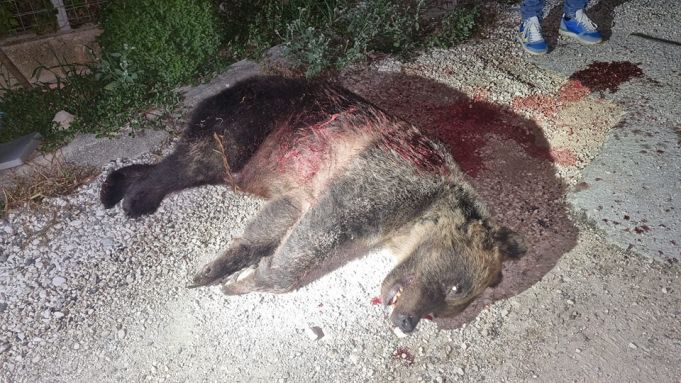 Park authorities condemned the "very grave" killing, stating that it "causes enormous damage to the population of about sixty specimens, affecting one of the most prolific females in the history of the Park."
Officials also noted that there are "obviously no reasons whatsoever to justify" the killing of Amarena, an animal that "had never created any type of problem" for people.
Authorities are now evaluating what to do with the two young cubs - currently missing - that Amarena left behind.
"The damage is irreparable and incalculable", Luciana Di Tizio, president of WWF Italia, told La Repubblica newspaper, noting that Amarena was "a prolific animal who knew how to take care of her litters."
Di Tizio said that the park is now presented with a serious problem in how to take care of the cubs, which rangers are attempting to track down and save.
"Doing so won't be easy, because you can't use tranquilisers, which would be dangerous, and with traps it's just as complicated" - Di Tizio said - "In short, you risk that the dead bears become three. The cubs are not able to survive on their own, stray dogs would be enough to kill them."
Earlier this week the family of bears delighted onlookers by rambling through San Benedetto dei Marsi, with video footage of the unexpected encounter shared widely on social media.
L'orsa Amarena e i suoi cuccioli attraversano un borgo in Abruzzo. A San Sebastiano dei Marsi, davanti a un gruppo di persone che osserva e riprende con gli smartphone #ANSA https://t.co/8wDZpwYzwi pic.twitter.com/NEq48Xoqk5

— Agenzia ANSA (@Agenzia_Ansa) August 29, 2023
Amarena was also the mother of four-year-old Juan Carrito, killed after being hit by a car at the start of this year.
Juan Carrito was famed for his appetite and made international headlines two years ago after breaking into a bakery for a late-night feast of biscuits.
A subspecies of the brown bear, the orso bruno marsicano is protected by Italian and European legislation, and its population has dwindled from around 100 in 1980 to about 60 today.
The main threat to the bears' survival is man, with direct and indirect risks including poaching, poisoning, deforestation, cattle grazing and road accidents.
Also known as the Apennine brown bear (Ursus arctos marsicanus), the animal is the largest land creature in the wild in Italy.
General Info
Address
67058 San Benedetto dei Marsi, Province of L'Aquila, Italy
View on Map
Italy mourns Amarena the bear, shot dead in Abruzzo
67058 San Benedetto dei Marsi, Province of L'Aquila, Italy