Two MPs from premier Meloni's party face calls to quit over Cospito row.
The Italian government is embroiled in a controversy over the jailed anarchist Alfredo Cospito who has been on hunger strike for more than 100 days in protest against a harsh prison regime known as 41-bis.
Cospito, 55, was moved on Monday from Sassari jail in Sardinia to the Opera prison in Milan amid fears for his deteriorating health and against the backdrop of violent protests from his anarchist supporters.
Cospito, who is serving 30 years for terror attacks, has lost 45kg in his hunger strike against the strict prison restrictions which are usually reserved for mafia bosses.
Surviving on water, honey and sugar, the emaciated Cospito is confined to a wheelchair and last week he reportedly slipped in the shower and broke his nose.
Cospito, the leader of the Informal Anarchists Federation (FAI), has vowed to continue his hunger strike until he achieves his goal of ending 41-bis for all prisoners.
Roma, altre immagini degli scontri tra anarchici e polizia. Incidenti nei dintorni di piazza Trilussa pic.twitter.com/wJ1HoT3BPO

— Local Team (@localteamtv) January 28, 2023
Italy's right-wing government agreed to a request from the national ombudsman for prisoners to have Cospito moved to the Milan jail, which is equipped with better medical facilities.
However the government has ruled out easing the 41-bis regime which involves prisoners being held in solitary confinement in small cells, under constant video surveillance and isolated from all contact with other inmates.
Italian premier Giorgia Meloni insisted the state would not "'retreat when faced with intimidation and threats", while justice minister Carlo Nordio said there is "no chance" of lifting the 41-bis regime which Cospito has been under since May after writing letters from prison urging his supporters to continue their armed struggle.
Cospito, who is Italy's first anarchist to be held under 41-bis terms, is serving time for knee-capping a nuclear energy manager in Genoa in 2012 and for bomb attacks on a police academy in Fossano in 2016, masterminded while he was in prison.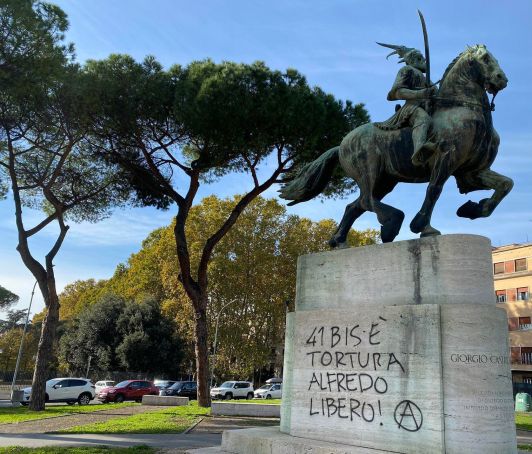 On Tuesday a controversy broke out in the Italian parliament involving two members of Meloni's far-right Fratelli d'Italia (FdI) party, Giovanni Donzelli and Andrea Delmastro Delle Vedove, both of whom are facing calls from opposition parties to resign.
Donzelli, a member of the Copasir parliamentary committee that oversees Italy's intelligence services, is accused of allegedly revealing classified information during an inflammatory speech in parliament relating to the Cospito case.
Donzelli stated that Cospito had spoken to mafia bosses about getting the 41-bis abolished and that four parliamentarians from the centre-left Partito Democratico (PD) had visited him in jail.
Donzelli then asked whether the PD was "on the side of the state or that of the terrorists", causing uproar in the lower house.
The information relating to Cospito was passed on to Donzelli by Delmastro Delle Vedove, the justice undersecretary with the portfolio for the penitentiary department.
PD leader Enrico Letta on Wednesday called on Donzelli and Delmastro Delle Vedove to quit, writing on Twitter that the justice deputy "violates the secret, passes confidential information on what the mafiosi under 41-bis say to the vice president of Copasir who uses it to tarnish the opposition."
Il vice di #Nordio alla giustizia viola il segreto, passa informazioni riservate su cosa dicono i mafiosi che sono sotto #41bis al vicepresidente del Copasir che le usa per infangare l'opposizione. Tre motivi, ognuno sufficiente perché #Donzelli e #Delmastro lascino. #NonMolliamo

— Enrico Letta (@EnricoLetta) February 1, 2023
Letta's calls were echoed by Carlo Calenda, leader of the centrist Azione party, who wrote on Twitter that Delmastro Delle Vedove "cannot remain" at the department of prison administriation (DAP) and that the sharing of classified information "to be exploited for political ends is is shameful, illegal and unprecedented".
However in an interview with Corriere della Sera newspaper on Thursday, Delmastro Delle Vedove said there was "no reason" for him to resign and that on the "explicit request" of his colleague he had disclosed information that was "not classified".
Donzelli told reporters on Wednesday that he had "no intention of resigning".
Earlier this week foreign minister Antonio Tajani said that Italy is raising security at all of its embassies and consulates "because at the moment international anarchists are mobilised against the Italian state."
Italian media reported on Thursday that the Sanremo Music Festival will be held under tight security next week to guarantee the safety of the public against the backdrop of heightened tension over the Cospito case.
Photo La Stampa