David "Diavù" Vecchiato is one of Rome's best known street artists.
Wanted in Rome
: How was your passion for art born, in particular street art, and how long have you been painting on the street?
Diavù: As a child I always drew what I saw around me, even while watching TV or reading comics – I copied everything. I remember that it was the exhibition I love Paperino [I love Donald Duck] at Palazzo Braschi in 1984 that made me realise that comics and painting could coexist, thanks to the works of artists such as Schifano and Ugo Nespolo alongside those of Andrea Pazienza, Jacovitti and the ducks of Carl Barks. I started working in the street in 1992/1993, pasting posters of my drawn characters. Then I dedicated myself to comics and publishing for a long time, never ceasing to fill sketchbooks and paint large canvases, and it was only in 2009 that I returned to creating works in the street. Since 2010 I have been making murals more and more often, because painting among people and in residential spaces is like an addiction.
Can you describe your style and your greatest source of inspiration?
I don't care if one of my works isn't immediately recognisable as mine, graphically speaking, and in fact I use different techniques, depending on the type of drawing or painting I have to do. Despite this I believe that my way of drawing is easily traceable back to me. My greatest source of inspiration is the reality that hides behind appearances. In my works I try to represent the truth, which is not what we see but what is obscured by superficiality. To put it another way: I am more interested in capturing the light of a person's gaze than making a portrait of them by reproducing their features.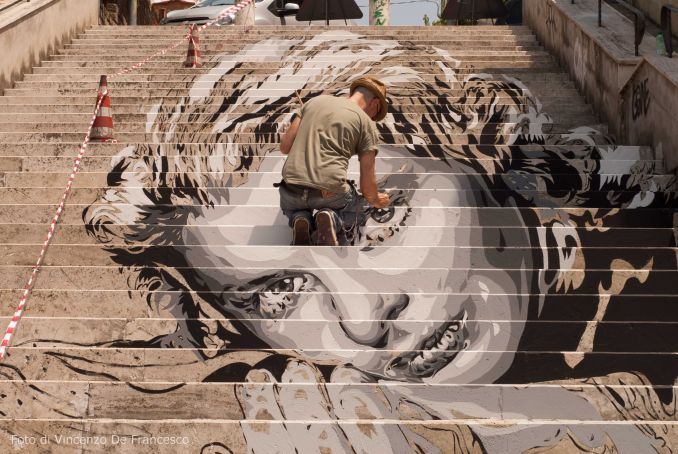 You are the curator of Street Art MURo Urban Museum of Rome and also GRAArt; can you tell us something about these projects?
They are both declarations of love for the Eternal City. Rome is like a 3,000-year-old grandmother who has endless stories to tell us, and painting in her streets is a bit like tattooing her skin. MURo is a project that I started spontaneously ten years ago in the Quadraro district [in south-eastern Rome], inviting artist colleagues from all over the world to tell the stories of the neighbourhood through murals. Then it spread first to Torpignattara and then to the whole city, producing dozens of works over the years. GRAArt, on the other hand, started off in a big way in 2016, thanks to a commission from ANAS [the state company in charge of Italy's highway network], and so far it has produced 17 large murals around the Grande Raccordo Anulare [Rome's ring road]. The murals relate to the history of the places in which they are painted, and are designed to become symbols of those areas.
You are known in Rome for your large-scale works such as the portraits painted on public staircases in areas of Rome such as Trastevere and Trionfale – what is your technique for making them?
The Popstairs works are painted on stairways and are dedicated to women. I started to make them because I believe that this city needs more "feminine" monuments. Each one requires at least one week of work and a staff of two or three assistants working with me, all kneeling for more than 12 hours a day. So the technique I would say is all in the physical preparation!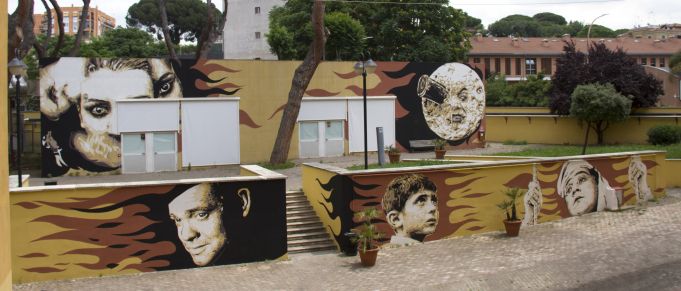 Where are your main works located, and is there an area of Rome where they are more concentrated?
They are mainly in the suburbs, because working on a large scale it isn't easy to obtain permits for the façades of buildings in the historic centre. Although I believe that an exemption should be made for artists with clear fame and a long career behind them, because cities are alive thanks to the layering of works of art produced over the centuries. In any case I've painted all across Rome, and my website contains a map of my murals.
What are your next projects?
In October I'll take part in the group exhibition Dallo sketch al MURo at the Rosso20Sette Arte Contemporanea gallery, which will conclude the various events of the first MURo Festival and will result in a catalogue celebrating the first decade of the MURo project. Then, if I manage to, I'd like to combine three of my loves: street art, publishing and music. In the meantime I'll paint lots of new murals.
By Andy Devane
To see more about Diavù and his works see website.
This interview appeared in the July 2019 edition of Wanted in Rome magazine.
Cover image: Michèle Mercier - Il Giovedì, by David Diavù Vecchiato. Via Ronciglione. Painting on staircase, 2015. Photo Oscar Giampoli.