How Paideia and Mater Dei are shaping the future of private healthcare in Italy
Interview with Alberto De Angelis, head of sales and innovation manager at Paideia and Mater Dei.
Italy may be a country that runs in large part on universal public healthcare, but private healthcare is increasingly making up a bigger share of the overall system.
Roughly 10 per cent of the Italian population has some type of private health insurance coverage, based on 2020 figures. That could be sponsored by an employer or purchased individually. But the number of private versus public hospital beds makes up a larger percentage than the country's total insured versus uninsured population. Out of roughly 209,000 hospital beds available in Italy in 2017, 44,000 of those — or more than 20 per cent — were housed in private accredited hospitals.
Rome's Paideia International Hospital and the Mater Dei private clinic are a pivotal part of the country and region's patchwork of private healthcare providers. Founded in the 1960s as a treatment practice for children, Paideia has steadily expanded past its initial purview to a surgical centre and eventually a private hospital in northern Rome. Last year, with increasing demands, the group opened a new international hospital in Roma Nord to serve more patients.
Almost a year after its opening, we talked to Alberto De Angelis, the company's head of sales and innovation manager, about what the future holds for healthcare at Paideia and Mater Dei — and for Italy.
What are the principal advantages of private healthcare over the public healthcare system in Italy?
First of all, the timing — we're able to provide high-level service in a short amount of time. So, that helps with treatment, not just from the clinical perspective but from the perspective of service. We also always aim to provide the most up-to-date technology and stay competitive against our competitors.
We are committed to managing our company with integrity by adhering to high standards of business ethics and, in fact, we are ESG compliant, in other words we meet environmental, social and governance standards and regulations.
From a structural and systems point of view, we had the opportunity to build Paideia International from scratch, using cutting-edge materials and technology, installing a cogenerator, photovoltaic system and recharging points for electric cars. We are immersed in Parco di Veio, we could not but embrace a green philosophy.
Everything has been planned in the spirit of sustainability. We work constantly to reduce paper consumption and to improve the efficiency of resources such as energy.
Paideia International Hospital opened in September 2022. Could you tell us a little about the beginnings of the project?
It started about ten years ago — the project began with the idea that the former Paideia clinic was too old and the space was too small for the growing demand. We needed to do something bigger and more ambitious. But it still took many years after that. In those past ten years, we did our best to study and seek to obtain the best technology possible.
What are the strengths of Mater Dei and Paideia in respect to other private hospitals and clinics? What makes them different?
There is, of course, the very strong history of generations of families that have been treated at our hospitals. We have a very American model — we are always a step ahead of the others. Let's say that, up until now, we have not considered other clinics as our competitors. We are at the level of hospitals — those are our numbers and that is our scope. More than anything, we are a benchmark for them.
At the moment, what differentiates us is our geographic location, our superb technology and our more than 400 employees that always aim to provide the best service. We work a 24/7 schedule and we have created an organisation that is currently very difficult to replicate in Rome.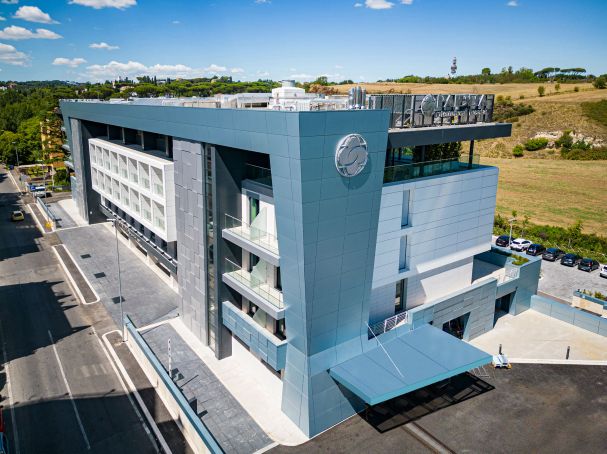 In your opinion, are private hospitals changing in some way the Italian health system? If yes, how?
I would say yes. Above all, from central Italy to the north, we see big and new hospitals that work well and are better able to manage patients while, from the centre southwards, [the hospitals] there remain overworked. There we enter into an environment in which clinics, private surgery centres and the entire health system have an abundance of requests. It would be useful for citizens if the synergy between private and public health were to grow.
How important is the international community for Mater Dei and Paideia? Is the number of foreign residents using your services increasing?
It's fundamental. It's also a way for us to understand how well we are doing in our organisation and our flexibility. For us, our key patient has always been international. All of our staff speaks English and, in some cases, other languages. We have always had a focus on the foreign patient. We have always historically supported hotels and embassies, especially thanks to our location. We want to grow the community further — and the demand is growing. We are also noticing the beginning of medical-related tourism. There are people now who come specifically to Rome to seek our services.
Are you planning to expand your private healthcare services in other parts of Rome or Italy?
Absolutely — we are evaluating many options, whether at the local or national level, from bigger plans to smaller ones. We will surely begin with the smaller options, but we are waiting for the opportunity to do something bigger.
How do you see the future of healthcare in Italy?
I see it, truthfully, as very complicated and a system that, to function, requires the stars to be aligned. It will take time and so many factors to make it work. I think it will always be complicated so long as there is not a strong synergy between public and private healthcare. In my opinion, the model that will work is one that operates between public and private — this way, we can meet the ever-increasing requests and the problems that hospitals have with rising costs.
In the north, we have truly done the right thing—there are large private groups that have hospitals that work really well. But I see that, at this point, the system is regional, more than anything. Lazio should take a bit of inspiration from what is happening in Lombardia and use what is available to them and make it available to its residents. Here, I have seen at least the start of a conversation between the private and public systems.
Who are your main clients?
It is the insurance market — those who have insurance policies or those who decide to get private health insurance or if their company offers a health insurance plan for all of its employees. Then we have a sector of clients that pay cash. Right now, that number is increasing, but it is still marginal relative to all the insured patients that we have.
What are the biggest challenges facing private healthcare in Italy?
Undoubtedly, it is the costs that have increased for almost everything, from energy to staff. And then, the other thing that is fundamental is our relationship with health insurers — unfortunately, we are in a moment in which health insurers have clamped down on private healthcare.
If our relationship with health insurance deteriorates and if they don't pay in time, that creates problems for all of the private health businesses. We are united in this — that we should have what is right and what is in accordance with our contract. But that is not always respected. Without that, we will not be able to work at all.
Interview by Elizabeth Djinis
This article was published in the July-August 2023 online edition of Wanted in Rome magazine.