Rome religious art affected by recent wave of vandalism and theft.
The marble tomb of the Early Italian Renaissance painter Blessed Fra Angelico has been vandalised at the church of S. Maria sopra Minerva in central Rome.
Vandals chipped off various parts of the tomb stone, carved by the 15th-century sculptor Isaia da Pisa, who portrayed the life-sized effigy of Angelico with his head resting on a cushion and his hands crossed serenely in death.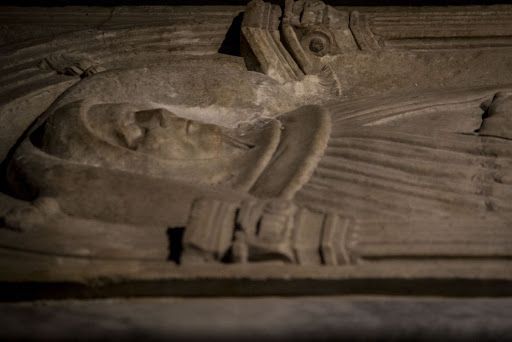 Fra Angelico (c.1395-1455) is better known in Italy as Beato Angelico, after Pope John Paul II proclaimed the artist's beatification in 1982 in recognition of the holiness of his life. Celebrated for his frescoes, particularly the
S. Marco Altarpiece
in Florence, Angelico was described by Vasari in his
Lives of the Artists
as having "a rare and perfect talent".
A restoration plan is currently being drawn up using funds from the Fondo Edifici di Culto (FEC), the trust for the protection and conservation of ecclesiastical buildings under the care of Italy's interior ministry.
This is not the first time that church of S. Maria sopra Minvera has been the scene of vandalism. In November 2016
vandals snapped a tusk
off Gian Lorenzo Bernini's marble Elephant and Obelisk sculpture, located in front of the church. It has since been restored.

Other church art in Rome has also been damaged in recent weeks. A graffiti "writer" known as Marz is under investigation by police for his suspected role in scrawling his "tag" over the Madonna dell'Arco di S. Calisto, a 13th-century outdoor religious fresco in Trastevere.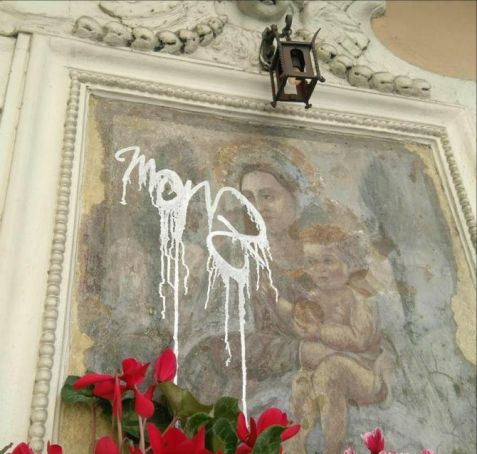 Separately a 19th-century painting of the
Sacred Heart
by Pietro Gagliardi was stolen from the Chiesa Nuova church on Corso Vittorio Emanuele on the morning of 4 April. The thief managed to remove the canvas from its oval gilt frame, leaving the church unnoticed.
Photos La Repubblica.