Heavy security and free museums in Rome for Easter 2018.

Easter in Rome is taking place amid tight security in the centre and the Vatican, particularly surrounding religious ceremonies for Holy Week.
The increased security follows several major anti-terrorism swoops by Italian police in recent days, including the arrests in Rome and nearby Latina of five people accused of links to Anis Amri, the Tunisian terrorist behind the 2016 Berlin Christmas-market truck attack in which 12 people were killed.
On the night of 30 March, Good Friday, Pope Francis led the Via Crucis at a torch-lit Colosseum, as around 20,000 faithful listened to meditations re-enacting Christ's crucifixion. The pope concluded the annual ceremony - which dates to the 18th century and was revived in 1964 - with prayers focusing on the three themes of "shame, repentance and hope."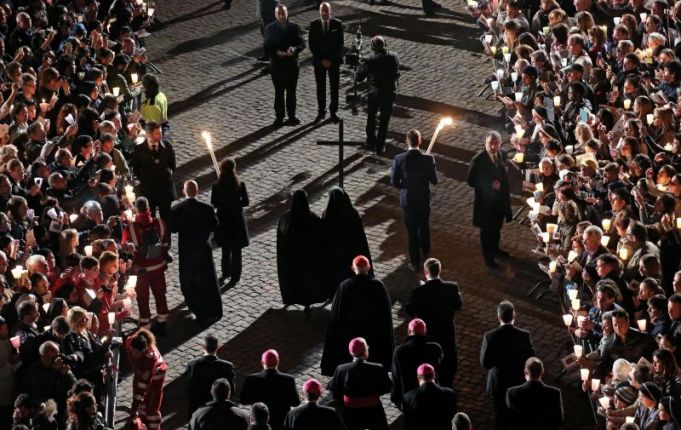 At 20.30 on Saturday 31 March Pope Francis celebrates the Easter Vigil at St Peter's Basilica, which remains open to visitors despite chunks of stucco falling from the ceiling on 29 March.
Easter Sunday Mass is celebrated by the pope in St Peter's Square on 1 April at 10.00, concluding at midday with the traditional Urbi et Orbi papal blessing from the balcony of St Peter's.
This year Easter Sunday coincides with Domenica al Museo, a monthly initiative which opens the doors of Italy's state-run museums for free. Rome's municipal museums will also be free to residents on Easter Sunday. City and state museums remain open on Easter Monday, or Pasquetta, which is a public holiday in Italy. For details of city and state museum Easter openings see Wanted in Rome article.
For full list of English-language religious Easter services in Rome's churches see the Wanted in Rome guide.