Rome's Colosseum to close on Good Friday
Metro Colosseo to close on 30 March ahead of papal ceremony.
The Colosseum and Roman Forum are expected to close for security reasons at lunchtime on Friday 30 March ahead of the traditional Good Friday Via Crucis ceremony, led by Pope Francis, beginning that evening at 21.15.
A number of street closures and bus detours are also expected in the Colosseum area on the afternoon of 30 March, with the Metro B Colosseo stop expected to close by early afternoon. None of the exact closing times have been announced yet but should be available soon on the city website.
Security has been raised in the centre of the capital over the Easter period, with particular attention on the Colosseum area as well as the Vatican.
On 29 March, Holy Thursday, Pope Francis celebrates Chrism Mass at 09.30 at St Peter's, and at 16.00 he will say Mass commemorating the Last Supper at Rome's Regina Coeli prison, during which he will wash the feet of 12 prisoners.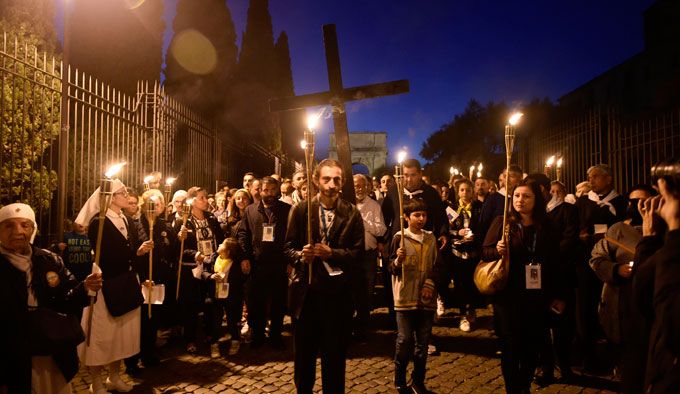 Good Friday's Via Crucis ceremony, also known as the Way of the Cross, commemorates the passion and death of Jesus Christ through the reading of prayers along a path of 14 stations. This year's meditations have been written by teenagers in honour of the Vatican's upcoming synod on "Young people, the faith and vocational discernment" scheduled in October.
Pope Francis celebrates the Easter Vigil at 20.30 on Saturday 31 March at St Peter's Basilica, followed at 10.00 the next morning in St Peter's Square with Easter Sunday Mass. The Easter ceremonies conclude at midday with the pope's traditional Urbi et Orbi blessing from the balcony of St Peter's.
For traffic updates see the city website and for the pope's full programme for Holy Week see Vatican website. For English-language Easter religious services in Rome's churches check the Wanted in Rome guide.
Photo LaPresse