Christmas events in Rome's international community
Christmas is a busy social season for Rome's international community.
Each year Rome's international community holds annual parties and events during the lead-up to Christmas, before departing to their home countries.
The Canadian Club of Rome (CCR) is holding a Secret Santa event at Bimbilandia, Viale di Tor di Quinto 55/57 on Sunday 6 Dec from 15.30. Guests are invited to bring a wrapped gift for a child (possibly with a label indicating boy/girl and a suitable age range) to be donated to less fortunate children. Santa Claus is scheduled to arrive at 16.30. For full details see website.
For the sixth consecutive year the Swedish embassy brings S. Lucia to Rome, sharing one of Sweden's best-loved traditions with the capital between Tuesday 8 and Wednesday 9 Dec. This year's choir of young students from Stockholm will perform Swedish traditional Christmas songs, carols and hymns at various locations: Basilica di S. Maria in Trastevere on Tuesday 8 Dec at 17.30, Piazza di Pietra (8 Dec at 19.30), the IKEA store at Porta di Roma (Wednesday 9 Dec at 11.00) and the Biblioteca Europea on Via Savoia 13/15 (9 Dec at 17.30). There are also Swedish Christmas treats such as glögg (hot spiced wine) and pepparkakor (ginger bread biscuits).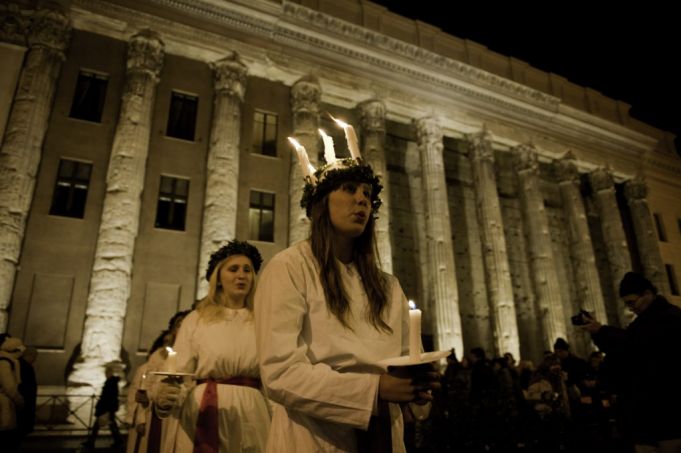 The Irish Club of Rome hosts its annual Christmas dinner on Friday 11 Dec at 20.00 at Ristorante L'Archeologia, Via Appia Antica 139. The festive meal begins with a prosecco aperitivo and is followed by Christmas crackers, chocolate selection boxes and the singing of Christmas carols. The event is open to all but booking is essential as spaces are limited. For more information and to reserve, email irishclubofrome@gmail.com or see Facebook event page.
While the Christmas period is a time of festive cheer for many in Rome's expat community, it is also worth remembering foreign residents who are less fortunate. The Joel Nafuma Refugee Center (JNRC) at the American Episcopal Church of Rome, St Paul's Within the Walls, is holding its annual Holiday Market on Saturday 12 Dec, from 10.00-17.00. The sale includes gifts and craftwork, with hot chocolate and mulled wine, and Santa and his elves promise to make an appearance. The JNRC is also appealing for donations of small practical Christmas gifts for the refugees in its care, to be brought to Via Napoli 58, by 15 Dec.
The Venerable English College holds a service of Advent music and readings on Saturday 12 and Sunday 13 Dec at 19.00 on both evenings. The college is located on Via di Monserrato 45, near Piazza Farnese. See website for event calendar.
The American International Club of Rome (AICR) holds its annual holiday party on Saturday 12 Dec at an "exclusive location" near the Castro Pretorio station on the Metro B line. The evening includes drinks, dinner, music and dancing, and is open to both members and non-members. Guests must reserve by 4 Dec. The AICR describes itself as a "home base" for Americans and other foreigners in Rome, and each month it organises social and cultural events. For full details about the event and the club see website.
The community of the Pontifical Irish College holds its annual Advent liturgy followed by Christmas carols at 17.00 on Sunday 13 Dec. Afterwards the occasion is made all the more festive with the provision of mulled wine and mince pies. Firmly established on Rome's expat Christmas calendar, this nostalgic event always draws a large crowd, so arriving early is a good idea. Via dei SS. Quattro 1 (S. Giovanni), see website.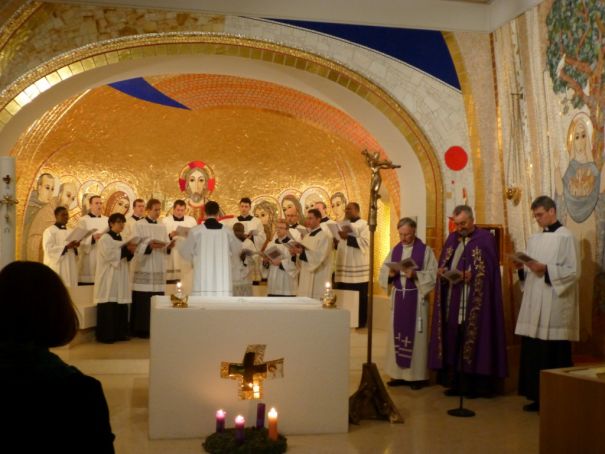 Finally, for traditional English carols visit the All Saints' Anglican Church on Via Babuino 153/b for its Service of Nine Lessons with Carols on Sunday 20 Dec at 18.00.