Retake Roma volunteers unite with Estonian embassy to clean up Rome
World Cleanup Day will be marked in Rome on Saturday 15 September in an event organised by Retake Roma, the volunteer movement which tackles the capital's urban decay, in the area around the river Tiber between Ponte Duca d'Aosta and Ponte Milvio.
The initiative, which begins at 10.00 on the Olympic Stadium side of Ponte Duca d'Aosta, will involve volunteers collecting rubbish before separating it for either recycling or regular waste disposal.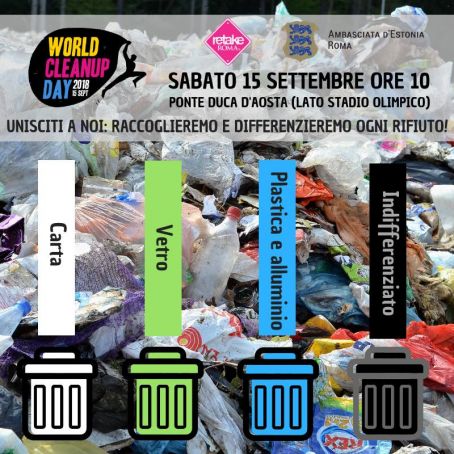 World Cleanup Day 2018 is a global social action programme aimed at combating the world's solid waste problem, including marine rubbish, with clean-up events planned in 150 countries on 15 September. Billed as the "biggest civic action in human history", the campaign seeks to involve five per cent of the global community, with the goal of a cleaner and healthier planet by the end of the day.
The Rome event is supported by Rome's embassy of Estonia whose citizens are currently celebrating the centenary of their nation's declaration of independence.
For details of the initiative, which is open to all, see
Facebook page
while for insights into the Retake Roma movement see
Wanted in Rome feature article
.
General Info
Address
Ponte Duca D'Aosta, Roma RM, Italy
View on Map
World Cleanup Day in Rome
Ponte Duca D'Aosta, Roma RM, Italy