An abandoned soap factory in Rome hosts the underground murals of French street artist Seth and is open 24/7.
"Otto!" hissed the wide-eyed little girl, chasing after her labrador through a gap in the wire fence, as if she were trespassing in Boo Radley's garden. "I told you a thousand times never to go in there," she scolded, hauling the repentant hound back through the mangled fence, under an arch, past the bins and onto Via Antonio Avogadro. Inside the wildly-overgrown enclosure lay the ruins of the Mira Lanza soap factory, abandoned for 60 years, located on the Portuense side of the Ponte della Scienza pedestrian bridge directly opposite Ostiense's landmark Gasometro.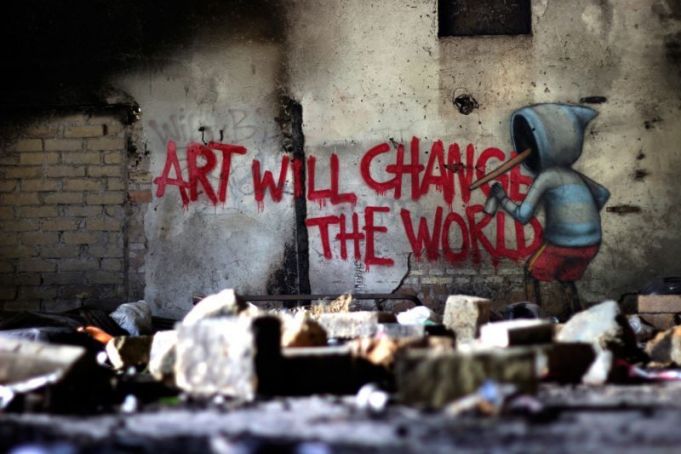 This hole in the fence marks the inauspicious entrance to a glorious art project whose official title is M.A.G.R. (Museo Abusivo Gestito dai Rom). Organised by non-profit cultural association 999Contemporary, the illicit initiative involved French street artist Seth camping and working secretly in the compound over several months in the middle of 2016. He created a series of hugely colourful murals and installations around the crumbling interior of the city-owned factory site, part of which was restored 18 years ago to house Teatro India, an avant-garde umbrella project of the Teatro di Roma.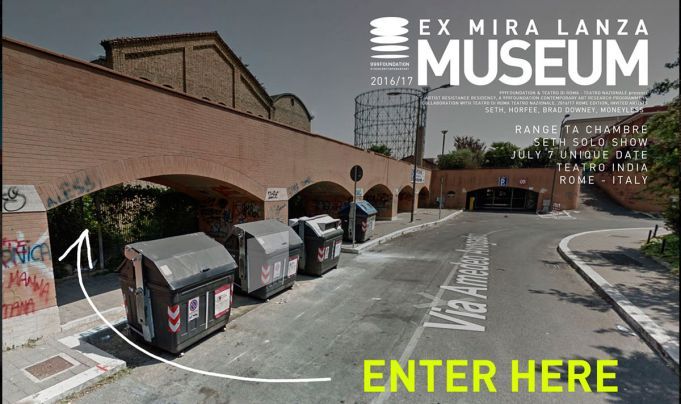 M.A.G.R. came about after 999Contemporary director Stefano Antonelli approached Seth, offering him a residency at Teatro India within whose walls he was to incorporate his art. The Parisian artist raised the stakes, however, by proposing to work instead in the derelict section of the sprawling Mira Lanza site.
Antonelli seized upon Seth's plan of staging a civil disobedience to "devandalise and revandalise" a wasted public resource in a prime location, which – despite numerous proposals – was abandoned by successive city administrations. This alleged disregard for urban regeneration spurred the project, which involved decorating walls and pillars with spray-paint and debris found around the garbage-strewn site.
Break and enter
Ducking in under the fence, wading through the long grass, dodging broken glass and perhaps even a rat or a snake, one has a subversive sense of the "underground", a feeling of breaking-and-entering to view Seth's clandestine beauty. The website – which warns "No Toilets. No Giftshop. No high heels. Yes Gypsies" – contains a map with an arrow directing visitors to "Break the law here".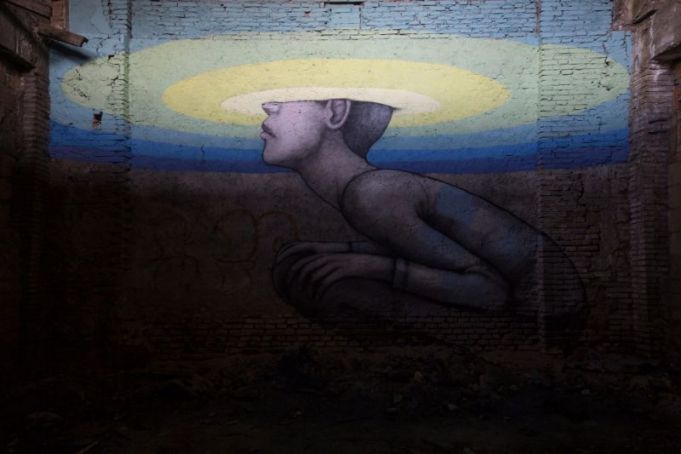 Many of the works have Latin titles, such as the hope-filled Lux in Tenebris (Light in Darkness), featuring a boy craning his Modigliani neck into spiralled loops of coloured halos. This particular mural was painted in an area used as a latrine by squatters until their eviction several years ago, after which the site was gutted by a fire.
Preparing the space for Seth's work involved shovelling out heaps of human excrement, a process Antonelli described as one "not usually associated with curating a contemporary art exhibition."
Other works include Lampedusa, a series of bricked-up windows crammed with refugees, and Macedonia, featuring found clothes pegged on barbed wire, a comment on the closed Macedonian border. Seth's Bricksit mural of a withdrawn boy wearing a crown gives the nod to Britain's Brexit negotiations. The remaining support pillars from the roofless factory are painted in rainbow colours, becoming Palmyre, an installation recalling the destruction by Islamic State of Syria's 2,000-year-old Temple of Bel in Palmyra.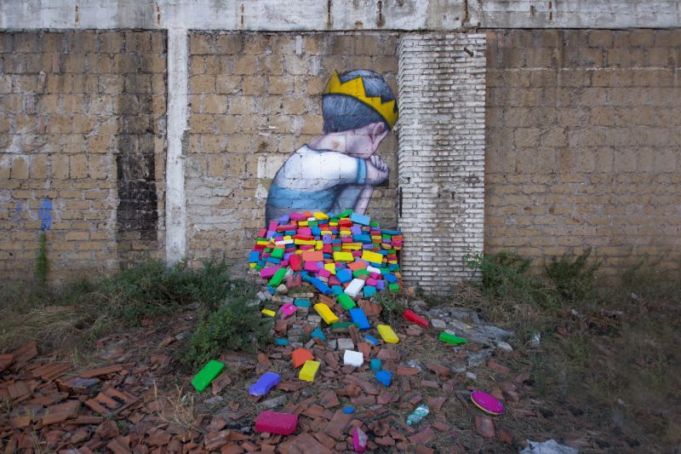 Seth's project is now fading – part of the desired effect, according to Antonelli. Today the open-air museum is looked after by Tito, a member of the Roma community which inhabits the far corner of the site. Under the honorary title of museum director, Tito is available to give tours on request. For full details see M.A.G.R. website.
Andy Devane
First published in the July 2017 edition of Wanted in Rome magazine.
General Info
Address
EX MIRA LANZA MUSEUM, Rome, Metropolitan City of Rome, Italy
View on Map
Underground street art in old Roman soap factory
EX MIRA LANZA MUSEUM, Rome, Metropolitan City of Rome, Italy