Rome police hunt for "English-speaking" skinny-dipper tourists.
A 68-year-old American tourist has been fined €450 for dipping her feet in the fountain of the Altare della Patria monument in Rome's central Piazza Venezia.
The tourist also faces charges of disrespecting the national monument which, in addition to commemorating Vittorio Emanuele II, the first king of a unified Italy, is dedicated to the memory of fallen soldiers.
The zero tolerance policy by Rome police comes amid heightened vigilance at the monument in the wake of a much-reported "skinny dipping" incident in the same fountains on the afternoon on 19 August.
Police have issued an appeal to Rome's consulates in an attempt to identify the two "English-speaking" tourists, one of whom lowered his underwear to pose for photographs by onlookers.
Police said the tourists' "outrageous" behaviour "gravely offended the national feeling and the memory of the fallen to whom the monument is dedicated".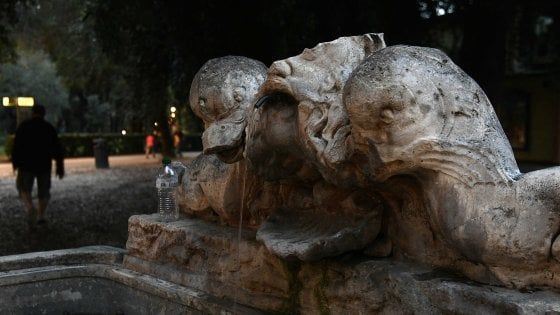 In separate news, the Fontana del Sarcofago in Rome's Villa Borghese park has been damaged by vandals who broke the statue's face in half, dumping it nearby. Police are examining security camera footage to try and catch those responsible for vandalising the fountain which is a copy of the marble original held in Rome's Pietro Canonico Museum.
Photos La Repubblica