Tourists take to the sea as Stromboli's volcano erupts.
The volcano on the Italian island of Stromboli erupted on the afternoon on 3 July, killing one hiker and sending frightened tourists fleeing into the sea.
The victim was a 35-year-old Sicilian naval officer who had been walking below the 400 metre altitude limit, above which a guide is required, when the volcano erupted at 14.46.
The eruption, preceded by two lava spills, also resulted in several minor injuries. Witnesses spoke of "fire raining down" as a cloud of ash filled the sky.
One of the biggest explosions ever recorded on Stromboli, according to Italy's National Institute of Geophysics and Volcanology (INGV), the volcano emitted a two-kilometre high plume of smoke and caused fires around the 12-sqm island.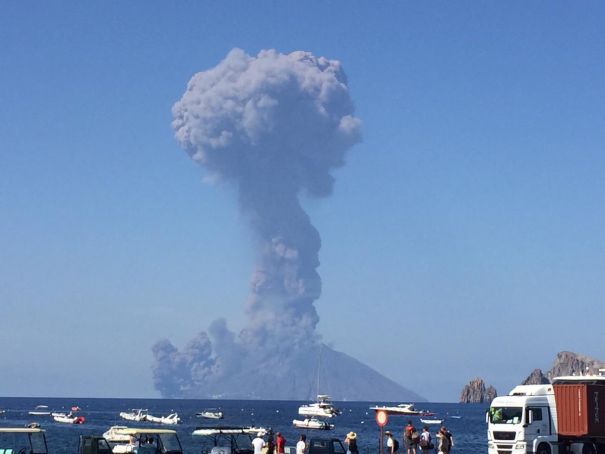 Firefighters battled the flames as a fire-fighting Canadair plane was initially unable to operate due to the amount of smoke.
Italy also deployed a navy boat on standby for a possible mass evacuation, and by the morning of 4 July around 100 inhabitants and tourists had already fled.
Part of the seven-island Aeolian Archipelago off the northern tip of Sicily, Stromboli is home to one of the most active volcanoes on the planet. In 2002 a massive explosion on the island prompted a tidal wave after magma cascaded into the sea.
Immortalised in the 1950 film by Roberto Rossellini, Stromboli has a population of around 500 people.
View on Map
Stromboli: one dead as volcano erupts on Italian island
Stromboli, Italy