Italy's new rugby coach is a New Zealander who makes his debut with the Azzurri against the All Blacks.
Italy is to play against the New Zealand rugby team, better known as the All Blacks, in a test match at Rome's Olympic Stadium on Saturday 6 November.
The game, scheduled to start at 14.00, is the first of three test matches for Italy, the Federazione Italiana Rugby (FIR) has announced.
Italy will face Argentina in Treviso on Saturday 13 November and Uruguay in Parma on Saturday 20 November.
The Rome match will be the first for Italy's new coach, the New Zealander Kieran Crowley, a former All Blacks player who helped his country win the 1987 World Cup.
It will be the fourth time the All Blacks have played in Rome, after facing Italy in games played in 2012, 2016 and 2018.
Ticket information
Tickets are on sale for the upcoming test matches, after Italy raised the maximum outdoor capacity of stadiums to 75 per cent of the total (up from 50 per cent).
Tickets for the All Blacks game in Rome range from €30 to €90, with discounts for clubs and under-18s.
All those attending the rugby games will be required to present a Green Pass or proof of a negative covid test carried out within the previous 48 hours.
Getting to Stadio Olimpico by sustainable means
Once again the city, in collaboration with the Italian Rugby Federation, encourages fans to reach the Olympic Stadium by using sustainable transport.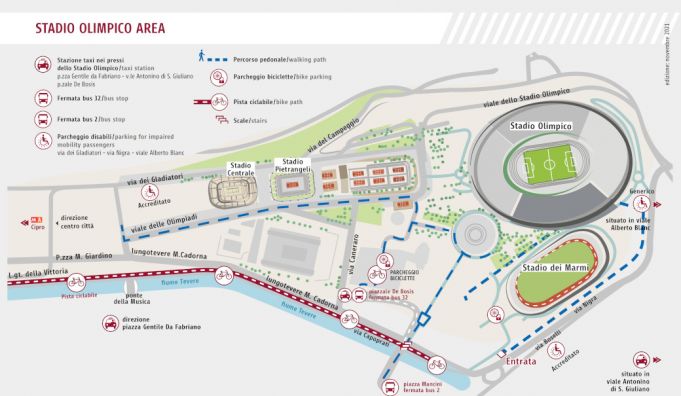 The Roma Gioca Sostenibile guide, issued in Italian and English, outlines the various ways of getting to the stadium, from public transport to cycling.
The guide includes information on travel tickets and maps of bicyles lanes as well as indicating the location of bike racks in the vicinity of the stadium.
For match ticket details check the FIR website while for information on the best ways to reach the stadium see the Roma Mobilità website.
Photo Corriere dello Sport