Villa Sciarra's statues, park furniture and children's area seriously damaged by vandals
Villa Sciarra, one of Rome's smaller and lesser-known parks, will now be locked each night after it was the subject of serious vandalism in the early hours of 4 February.
The city has condemned the "inexplicable vandalism" which resulted in the smashing of ancient statues, amphorae and terracotta vases, and the vandalising of the children's play area, park benches, even the bins.
The dog statue was ripped from the group of Diana and Endymion and thrown into the waters of the fountain while vandals also smashed a plaque dedicated to the 19th-century Roman educator Rosa Vagnozzi.
Located on the slopes of the Janiculum hill, not far from the American and Spanish academies, the villa is steeped in lore: in ancient times the grounds were considered the sacred grove of Furrina, an ancient Roman goddess associated with water; Caesar was said to have hosted Cleopatra in the gardens; and in 1906 an ancient marble statue of Bacchus with gilded face and hands was unearthed on the property.
The villa, including the 15th-century house, changed hands many times, and was given its current title when it was acquired by the Colonna di Sciarra family in 1811, when the estate was enlarged. It survived the battles of Garibaldi against the pope and the French at Porta S. Pancrazio nearby. It was parcelled out to creditors in the 1880s after its then owner Prince Maffeo Sciarra II went bankrupt. In 1902 a wealthy American couple, George Wurts and Henriette Tower, reassembled and restored the estate. They renovated the house in the neo-renaissance style, decorated the land with statues, planted exotic flora and brought in white peacocks to stroll the grounds.
After Wurts' death, Tower donated the villa to the Italian state as a public park in 1932. The 70,000 sqm-park has since become the location of the Italian Institute of Germanic Studies and was restored in 2005.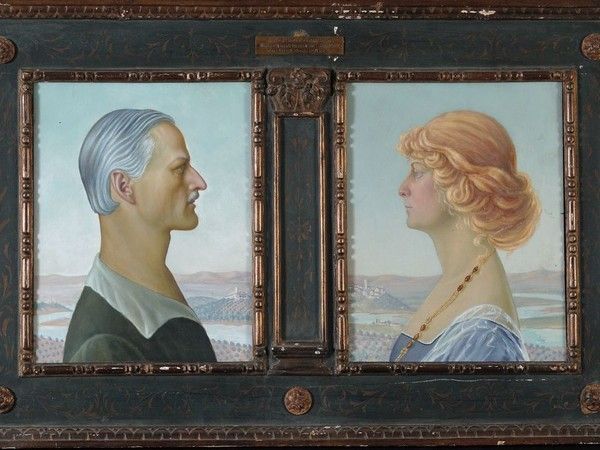 The vast collection of paintings and sculptures assembled by Wurts and Tower, which was also donated to the state, is currently on display in an
exhibition at Palazzo Venezia
.
Photos Amici di Villa Sciarra