Rome's refugees work their way to success
Tailors from west Africa and cooks from Syria build new lives in Rome through dignified employment in fashion and food.
There was goodness in the air as visitors thronged the Christmas market at St Paul's Within-the-Walls, the American Episcopalian Church of Rome, on the first day in December. The annual market is a firm fixture on the city's expat calendar, with proceeds going to support the work of the Joel Nafuma Refugee Center (JNRC), located in the crypt below the neo-gothic landmark on Via Nazionale.
Designed by George Edmund Street, the Victorian-era church has been a bastion of Rome's English-speaking community since it opened in 1880. Today St Paul's and the JNRC – founded in 1982 – play an increasingly vital role in providing friendship and support to refugees who make their difficult way to Rome.
Rev. Austin K. Rios, rector of St Paul's, welcomed guests to the Christmas fair as warm chatter filled the church's lofty ceilings. Children sold homemade cake and cookies; other stands included more exotic fare, from ethnic cuisine to ornate jewellery, with a thoroughly international mix of stall-holders and browsers.
The event provided an opportunity to highlight the work of the church's day centre for refugees and asylum seekers, which each day welcomes up to 250 people, half of them homeless. In addition to offering hospitality, a central part of the JNRC mission is to "provide a support network and to encourage and empower refugees to build new lives."
The Sewing Cooperative
One of the market stalls offered a selection of brightly-coloured cushion covers, table cloths and bags, the work of Rome's Sewing Cooperative, established in 2017 by Lydia Witt, a professional dressmaker originally from Ohio.
After a decade working for Broadway and the New York City Ballet, Witt secured a Fulbright scholarship in 2016 and made the life-changing decision to travel to Rome. She volunteered at the JNRC where she taught professional-level dressmaking, as well as interviewing refugees at the Baobab mobile refugee centre near Tiburtina station.
She soon became aware of how displaced people longed for the sense of normality provided by employment and using their existing skills. After securing funds from a church in Kentucky and the US embassy in Italy, Witt purchased six sewing machines and launched The Sewing Cooperative, originally based at the JNRC. She discovered that aside from the satisfaction of learning new skills, many tailors found a therapeutic joy in the familiar act of being able to sew once again.
Sala 1
Witt was also given a helping hand from Rome's Galleria Sala 1 whose owner, American Mary Angela Schroth, offered her gallery as a place to work last summer. Witt repaid the gesture by holding an "interactive installation", allowing visitors to ask questions and observe the tailors as they created garments made predominantly from colourful west African wax print.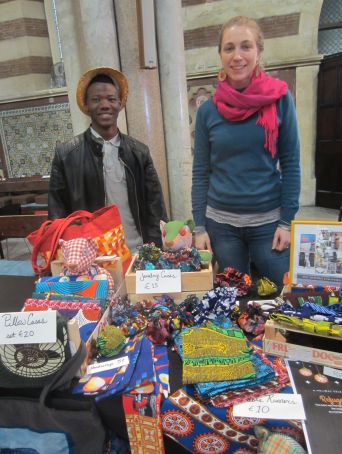 At the St Paul's fair Witt was joined by Lassina, who has been a member of the Sewing Cooperative for more than four months. From Koulikoro in western Mali, Lassina arrived in Sicily on a migrant boat from Libya in 2016. Now aged 20, he began tailoring in Mali when he was 14 and, after a couple of years away from his trade, he is happy to be once again cutting and stitching in Rome.
Esquilino
The Sewing Cooperative is based in a third-floor studio overlooking the Mercato Centrale food emporium on Via Giolitti, in the multi-ethnic Esquilino district. Lassina is the newest member of the team whose original member is Daouda, aged 26, from the Ivory Coast.Daouda is softly-spoken and earnest with a gentle manner and obviously takes pride in his work. He arrived in Italy in 2016 after fleeing ethnic tensions in his country, travelling through Libya before making the perilous journey across the Mediterranean on a rubber dinghy. Daouda is joined at The Sewing Cooperative by several other tailors, two compatriots – Abou and Bamba – and another two, less frequently, from Senegal and Gambia.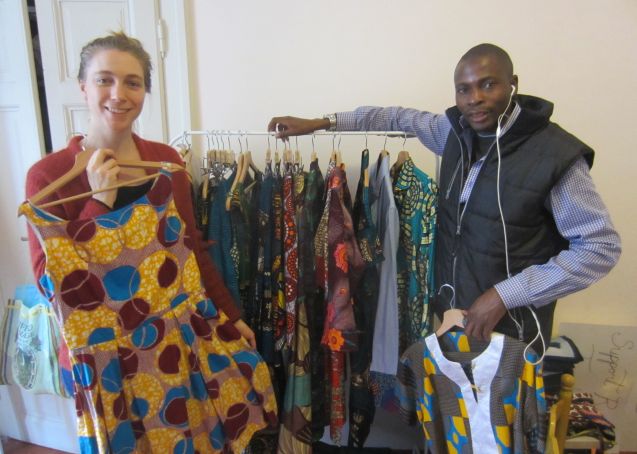 The team works with clients who co-design their made-to-measure clothes before setting off to the nearby markets around Piazza Vittorio to choose their fabric. Finished items vary in price from €35 to €100 and are ready for collection or shipping within 48 hours.
This fast turnaround favours the bulk of customers who are on vacation from the US.Many clients arrive after subscribing to a three-hour "fashion experience", advertised through Airbnb, which involves meeting the refugee tailors and learning about sustainable fashion. However, Witt is keen to point out that it is not a "refugee tour", rather a chance for "exchange and dialogue" with the cooperative's professional tailors.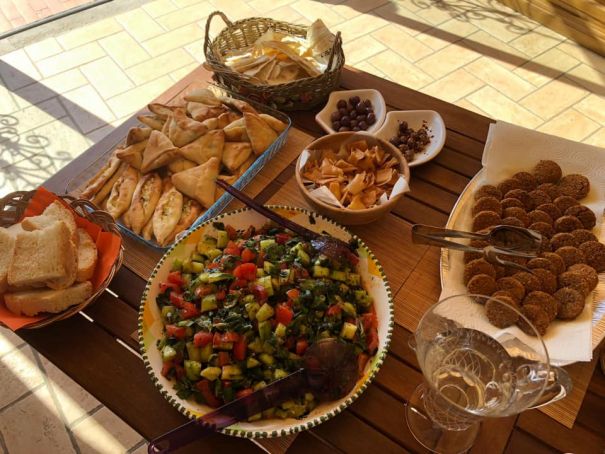 The international flavour at the St Paul's Christmas market was further enriched by the enticing aroma from the stand operated by Hummustown, another refugee success story in Rome. Founded in March 2017, this catering start-up gives Syrian refugees economic independence, social inclusion and dignity through cooking their native cuisine. The driving force behind the project is a dynamic duo of sisters, Shaza and Loma Saker, both of whom were born in Damascus but were raised in Rome from early childhood.
Humanitarian concern
The Saker sisters are clearly passionate about the project, mixing their considerable organisational, business and media skills with a genuine humanitarian concern. The 15 refugees at Hummustown come from a range of backgrounds, and organisers stress that the project is open to all Syrians, regardless of ethnicity or religion.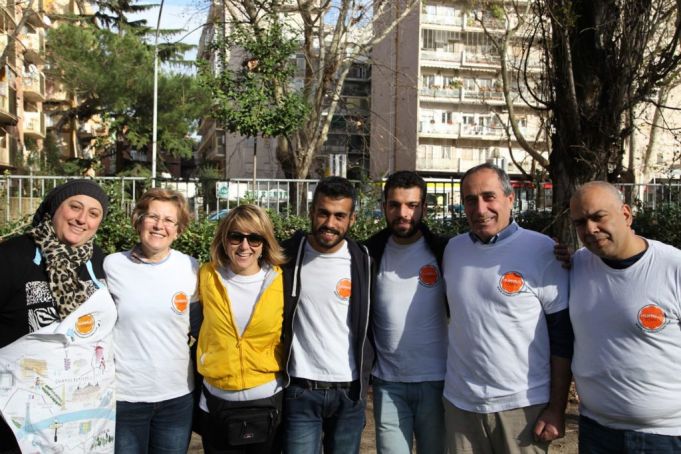 The team, which ranges in age from early 20s to 50, comprises five women and 13 men, including a husband and wife. They came to Hummustown through word of mouth. The women are the principal cooks, while the role of the men varies from food preparation to packaging and distribution.
Integration
In addition to offering financial independence and stability, a core tenet of the Hummustown philosophy is assisting Syrian refugees to integrate by helping them with the difficulties of the Italian language and Rome's bureaucracy.
All fled devastating scenes of war and death, making their way to Italy either by boat or by foot, in some cases moving on to northern Europe before being sent back to Rome. One of the younger members, 26-year-old university degree graduate Sadam from Daraa in southwest Syria, lost his entire family in the conflict, and briefly lived rough in Rome before being welcomed into Hummustown.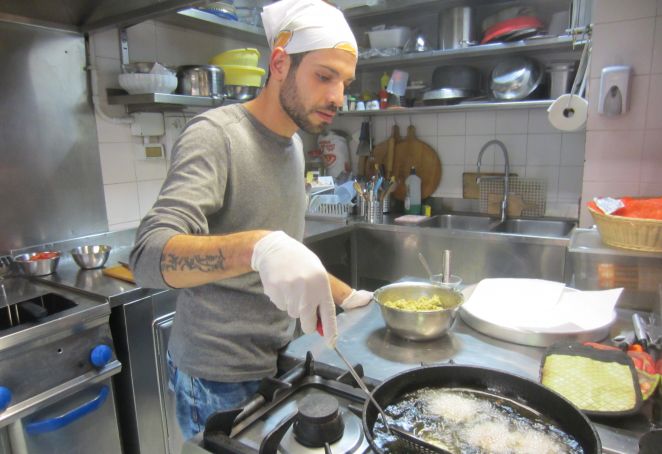 Several weeks after the St Pauls' Christmas fair, Hummustown opened its first industrial kitchen in the Tuscolana area of the city, following a recent fundraising drive. This is where the bulk of its food for distribution and catering is produced, having previously used private kitchens hosted by the project's patrons. Fundraising continues however, with donors invited to choose from a wish-list ranging from new dishwashers and refrigerators to used pots and pans, via the project's GoFundMe page on its website.
Catering
In addition to catering for events, Hummustown has weekly appointments around the capital, including the World Food Programme (WFP) 09.30-14.00 every Tuesday and Thursday, and the International Fund for Agricultural Development (IFAD) every other Friday 09.30-14.00, as well as its Aventino Lunches, enjoyed primarily by employees of the Food and Agriculture Organization (FAO), at nearby Lele and Marta Caffè 57 on Monday, Wednesday and Friday.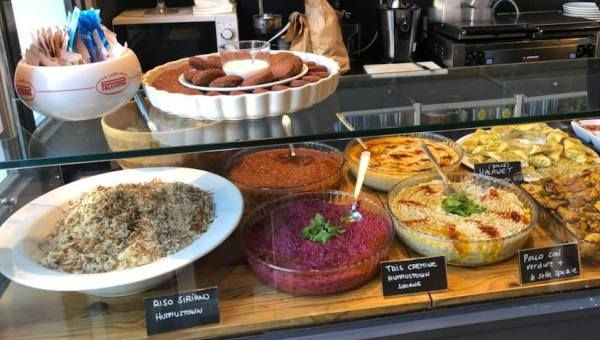 Organisers are keen to point out – particularly to Italians – that Syria's refined cuisine uses many of the same Mediterranean ingredients as Italian food. In addition to hummus and falafel, Hummustown offers lesser-known specialties such as muhammara (fresh red peppers, melagrane molasses, ground walnuts, breadcrumbs and olive oil) and mutabbal (smoked eggplant, yoghurt, sesame paste, salt, olive oil).
Life of dignity
The JNRC fundraiser and programme coordinator Annika Milisic-Stanley says: "In different ways, Hummustown and The Sewing Cooperative both achieve the JNRC goals of serving the needs and aspirations of refugees and asylum seekers", adding that the JNRC is happy to collaborate with "any initiative that helps refugees and aspirational migrants to integrate, become self-sufficient and live a life of dignity in Rome."
By Andy Devane
This article was published in the January 2019 edition of Wanted in Rome magazine.
Contacts: The Sewing Cooperative is on Instagram. For an appointment with the tailors contact lydia.witt@gmail.com.
To find out more about Hummustown and to donate see website.
Joel Nafuma Refugee Center, Via Napoli 58 (corner Via Nazionale), tel. 064883339. The JNRC welcomes donations and volunteers, for details see website.
General Info
Address
Via Napoli, 58, 00184 Roma RM, Italia
View on Map
Rome's refugees work their way to success
Via Napoli, 58, 00184 Roma RM, Italia