Rome unearths 2,000-year-old timbers from France
Rome Metro C works unearth ancient oak boards from modern-day France.
Rome archaeologists have announced that oak timbers discovered during excavations for the city's third subway, Metro C, came from modern-day France almost 2,000 years ago.
The sensational findings, based on dendrochronology or tree-ring dating, revealed that the oak-wood planks date to 40 AD and travelled 1,700 km from north-east France, then part of the Roman empire.
The 24 timbers were discovered during Metro C works between 2014 and 2016 under Via Sannio in the capital's S. Giovanni district.
Archaeologists believe that the timber was used in the foundations of a porch for a lavish Roman villa, and that the wood was preserved exceptionally well over the centuries thanks to wet mud.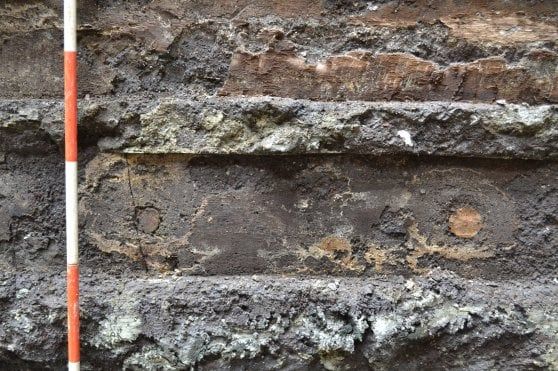 "An incredible organisation for the time, which only the Romans could undertake", Mauro Bernabei, a researcher at Rome's National Research Council, told Italian newspaper
La Repubblica
.
Experts believe that the oak wood was felled in forests between the Jura mountains and the Upper Rhine Valley, during the reign of Caligula.
The timbers were likely transported to Rome using the Saône river, then the Rhône, before crossing the Mediterranean and up the Tiber into the heart of the Eternal City.
Archaeologists say the findings suggest that the long-distance transportation of "standard" building materials such as oak wood - as opposed to valuable timber such as ebony or cedar - was the norm in ancient Rome.
Photos La Repubblica
General Info
Address
Via Sannio, 00183 Roma RM, Italy
View on Map
Rome unearths 2,000-year-old timbers from France
Via Sannio, 00183 Roma RM, Italy