Rome celebrates its Sts Peter and Paul with public holiday and fireworks at Piazza del Popolo.
Rome celebrates its patron saints, Peter and Paul, with a public holiday in the capital on Thursday 29 June. All public offices in Rome will be shut, as will many shops, while supermarkets may close at lunchtime.
There are liturgical celebrations scheduled in many of the city's churches, in particular the Basilica of St Paul's Outside the Walls, as well as the Pallium Mass at 09.30 in St Peter's Basilica. Tickets are required for the papal ceremony which will see Pope Francis bless the pallium, or white woolen stole which is placed around the shoulders of all newly-appointed archbishops.
Also at St Peter's, in Piazza Pio XII and along Via della Conciliazione, is the historic infiorata floral display which is on show throughout 29 June. The multi-coloured flower carpet will feature images made from tens of thousands of petals, along with salt and coloured sawdust. The ancient tradition dates back to 1625 but was abandoned for around 400 years before being restored in 2011.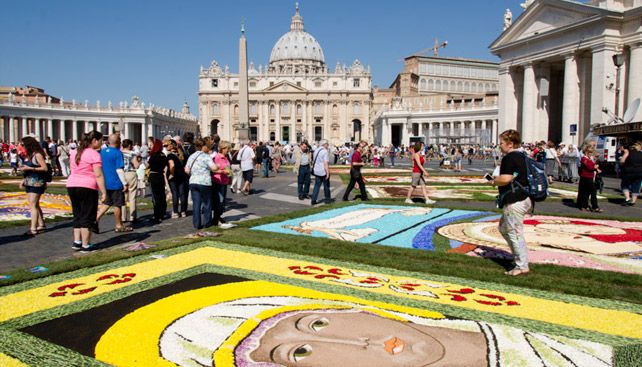 Later that evening the annual Girandola fireworks display lights up the sky at Pincio, over Piazza del Popolo, at 21.30. The historic spectacle, introduced in 1481, moved across the river from its traditional Castel S. Angelo location last year.
The idea of Michelangelo, perfected later by Bernini, the 16-minute firework display has inspired writers and artists such as Dickens, Belli and Piranesi.