Junior government minister under investigation over alleged Mafia links.
Italian premier Matteo Renzi has intervened following an investigation into a junior government minister as part of the burgeoning case involving an alleged mafia syndicate operating in Rome and elsewhere in Italy.
Renzi said he will not request the resignation of the government's agriculture undersecretary Giuseppe Castiglione, of the Nuovo Centro Destra (NCD) party, who is under investigation in relation to suspected bid-rigging of contracts for a large migrant centre in his native Sicily. Castiglione, along with six others in Catania, is suspected of manipulating the bidding process to ensure a particular cooperative was successful in winning the contract to manage the Cara di Mineo complex in 2011.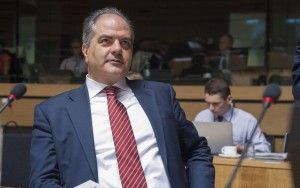 The investigation is an offshoot of the so-called Mafia Capitale case which centres mainly on the embezzlement of funds destined for emergency housing for immigrants and camps for Roma people, but also includes other sectors such as waste management, recycling and parks maintenance.
Referring to his own father who is currently being probed for alleged fraudulent bankruptcy in an unrelated case, Renzi says there is no reason for Castiglione, or any other suspect, to resign just because they are under investigation. However he added that if convicted "they must remain in jail until the last day" and "leave public office for good."
Since December the case has seen dozens of politicians, public officials and business people arrested for alleged mafia activity, including the 44 arrests made in Lazio, Abruzzo and Sicily on 4 June.
They are also many under investigation, but who have not been arrested to date, including Gianni Alemanno who was mayor of Rome from 2008 to 2013 and is currently standing down from his rightwing party, Fratelli d'Italia (FdI).
Renzi has also defended the reputations of incumbent Lazio governor Nicola Zingaretti and Rome mayor Ignazio Marino, both of whom are fellow members of the premier's centre-left Partita Democratica (PD) party, neither of whom is under investigation.
Renzi said that the present mayor could not be held responsible for a corrupt system which was already well-established by the time Marino took office two years ago. Marino himself has dismissed calls for his resignation, saying "that is what the Mafia would like", and that under his administration "their criminal plans have failed."
Italy's foreign minister Paolo Gentiloni (PD) has also weighed in behind the mayor, saying that he must remain in office despite the deepening investigation, adding: "The problem is not Marino."
Police say the central figures in the Mafia Capitale case remain the notorious Roman underworld figure and alleged leader of the capital's mafia, Massimo Carminati, and his right-hand man Salvatore Buzzi, both of whom were arrested last December along with dozens of other suspects.
In early 2013 Buzzi was caught on a wire-tap boasting that the criminals made €40 million a year creaming off funds for immigrants and Roma camps, a racket "more profitable than drug trafficking."