How an Irish-Italian is at the forefront in the changing face of Rome's bar scene.
Affable and imposing in equal measure, Patrick Pistolesi has a commanding presence. Just turned 40, he is already a legendary figure in Rome's burgeoning cocktail scene, as well as being a bartender of international standing.
Over the last decade the capital's nightlife has witnessed a sea-change, evolving from wine bars and Irish pubs to embrace that more discerning creature – the cocktail bar – with Pistolesi recognised as leading the charge.
Irish roots
As his name might suggest, Pistolesi shares his heritage between Italy and Ireland; his father is from Rome, his mother from Dublin. He spent his first 18 summers with family in Midleton, a market town in Ireland's south-east county of Cork. Flanked by mischievous older cousins, the teenage Pistolesi would sneak into the town's pubs for "the odd glass of beer".
It proved to be a formative experience, his future lighting up before his eyes. He remembers with nostalgia the admiration he had for Midleton's bartenders who were "responsible for everyone's recreation", fulfilling a role somewhere between a conductor in an orchestra and a ringmaster in a circus.
Drink Kong
A quarter of a century later, with numerous accolades and pioneering projects in the drinks industry behind him, Pistolesi is celebrating his recent opening of Drink Kong, a refreshingly original cocktail bar in central Rome. The venue – a former bicycle shop in Piazza S. Martino ai Monti – sits in the shadow of the 12th-century Torre dei Capocci.
Minimal and bespoke, the bar's design evokes the cult science fiction movie Blade Runner merged with elements of Japanese traditional and popular culture. It could be in New York, London or Tokyo. Instead it is in the area of Rome where Monti meets the Esquilino.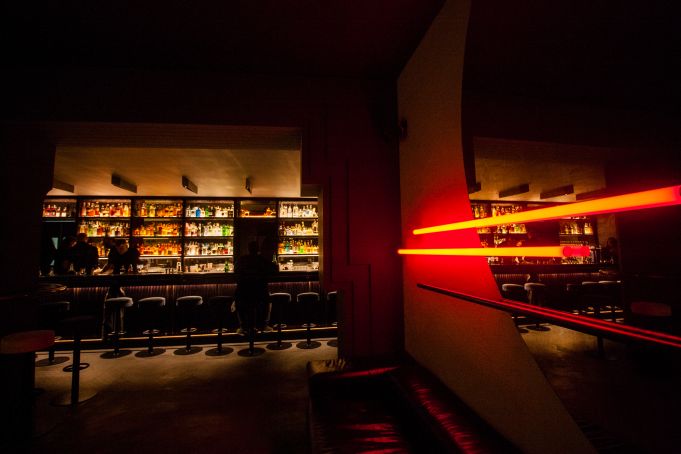 Wide open doors lead directly to Drink Kong's bar whose vast display of glowing coloured bottles against mirrored shelves draws the visitor in like a magnet. The 300-sqm venue is divided into four separate spaces, including a softly-lit lounge fronting onto Via di S. Martino ai Monti and the Jungle Room, which hosts live rock, jazz and soul music, and faces onto Via Giovanni Lanza.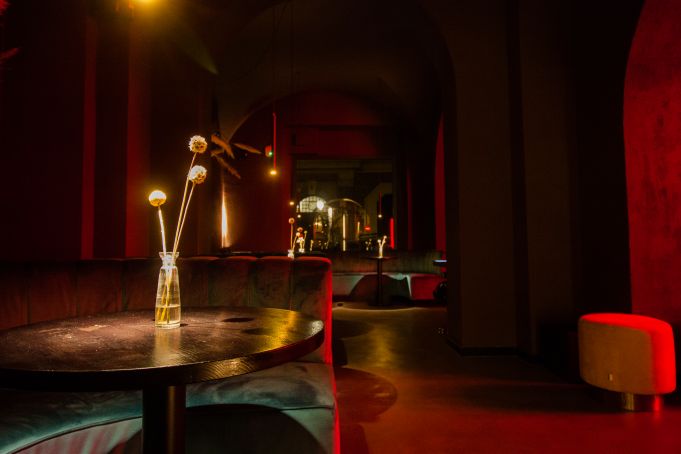 However, it is the little room hidden directly behind the bar that is the most intriguing, and impressive. Decorated with polished Japanese cherry-wood panelling, the silent Omakase Room has a wall containing caged alcoves housing rare whisky and sake, available exclusively to customers holding a key (on prior arrangement), with ten seats for privately-booked tastings or master classes with a dedicated bartender.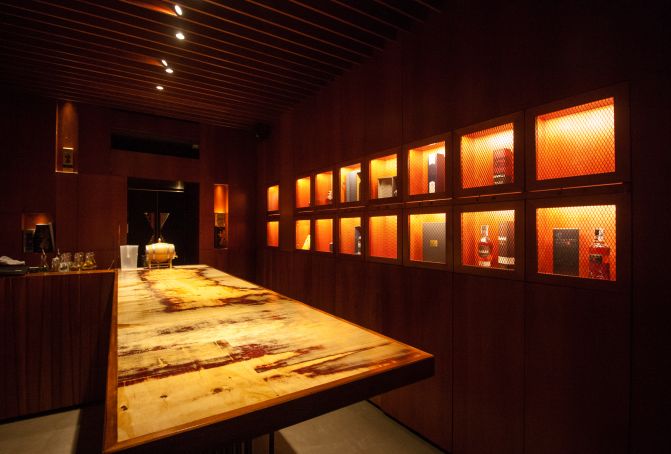 Strategically-placed red, green and purple neon lights illuminate the black and white chequered floor leading to a futuristic bathroom whose mirrors provide infinite reflections. In the corridor along the way are arcade-style pinball machines. But what about the venue's unusual name? Pistolesi grins. An old King Kong-related moniker attached to the bar's broad-chested front man.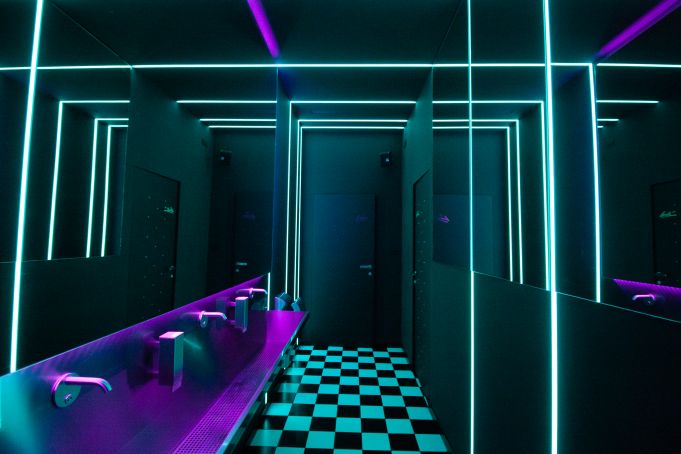 Pulling up a barstool before launching into the Saturday night "inferno", Pistolesi sits down to answer questions about his career in mixology, the in-depth study of mixing drinks. Despite his international reputation, he instantly shrugs off the "celebrity" tag, stating that he has got to where he is today by hard work and study as well as making mistakes along the way.
Baptism by fire
He is candid about his beginnings as a 19-year-old novice who accepted a summer job making cocktails at a festival near Rome's Stadio Olimpico at short notice. His only bar experience until then had been serving tables at The Shamrock on Via Capo d'Africa. Terrified, he engaged the help of a bartender friend who let him shadow her every move as he scribbled down the recipes for each cocktail to learn by heart. Two days later a nervous, sleep-deprived Pistolesi showed up for work at the festival's cocktail bar.
"I remember being lost," he admits. "I thought the gin inside the Bombay Sapphire bottle was blue." It was baptism by fire. His first cocktail, a Piña Colada, was "terrible" as he was taught to make it with Malibu instead of rum. Staring at the customer, willing him to like the drink, he still recalls the feeling of "flying" on receiving a favourable response.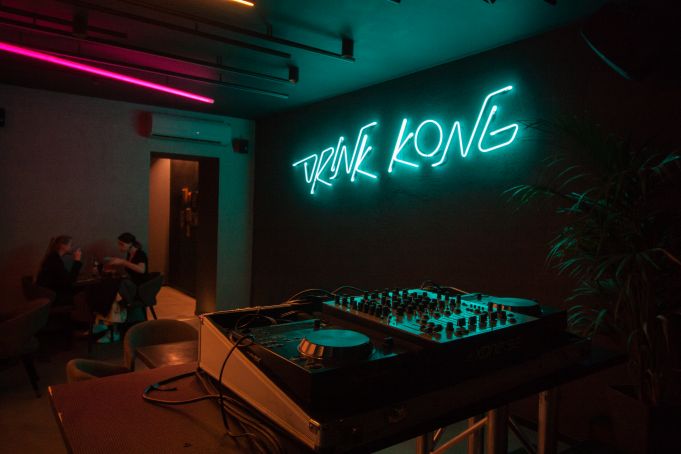 As Pistolesi chats, he is greeted constantly by customers whose salutations he reciprocates warmly – the consummate barman, even while off duty. When speaking English, his accent is a mixture of Irish, Italian and international but his banter is peppered with Irish colloquialisms. The drinks prepared by his expert team at Drink Kong are elegant and presented with finesse, served with Japanese nibbles on the side. It is a far cry from the Rome of Pistolesi's youth, when cocktails were generally handed out in plastic cups at discos.
In the internet-free days of the late 1990s, when Pistolesi began to hone his craft seriously, he would ask friends to look out for any cocktail-related books they could find while abroad. He started undertaking master classes in mixology all around the world and to his delight found himself part of a global movement "exploding" around him.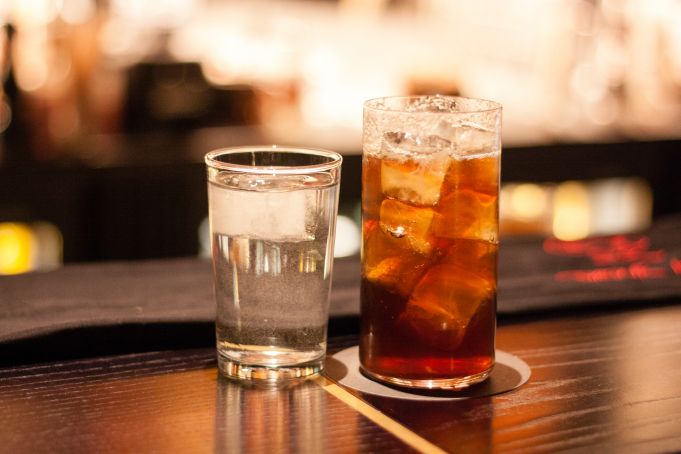 Pistolesi began making a name for himself in Rome while fronting Barnum, which opened on Via del Pellegrino in 2009. On the back of this experience, in 2013 he was pivotal in launching The Gin Corner, Italy's first bar dedicated solely to gin, at the Hotel Adriano in the historic centre. Its impact on the Italian bar scene was significant and led to the opening of numerous mono-brand or themed bars elsewhere in Italy. In recent years, Pistolesi and his disciples also galvanised the cult cocktail reputation of Caffè Propaganda, near the Colosseum.
Cocktail culture
The advent of cocktail culture has shaken up the capital's nightlife in a similar, albeit classier, way that Irish pubs did in the 1990s. Pistolesi reserves praise for two of Rome's historic Irish bars – the Fiddler's Elbow and Druid's Den – both of which are located a stone's throw from Drink Kong. He and his fellow mixologists frequented these establishments growing up, and all "served their time" pulling pints in Irish pubs before ascending to a higher level of bartending.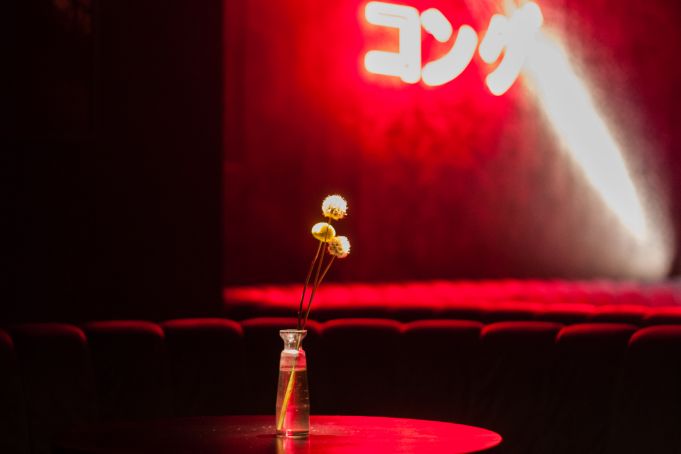 Over the last decade, Rome has also embraced speakeasies – prohibition-era style "hidden" cocktail bars which require passwords, phone-calls or secret knocks to gain entry. However when Pistolesi opened Drink Kong, alongside his four other owner-partners, he eschewed the distractions associated with theme bars. "I wanted to create a place that would be a cocktail bar and nothing else."
Instinct
More than anything else, Pistolesi says, his multi-faceted venue is an "instinct" bar: customers are asked if they prefer a bitter, dry or sweet taste. A drink is prepared accordingly, with the additional option of ordering some of the internationally-inspired tapas from chef Marco Morello. Specialties include Scandinavian smørrebrød (buttered rye bread stuffed with herring, salmon or vegetables), vegan dumplings with bao (steamed Chinese bread) or the more local option of "km-0" salumi e formaggi.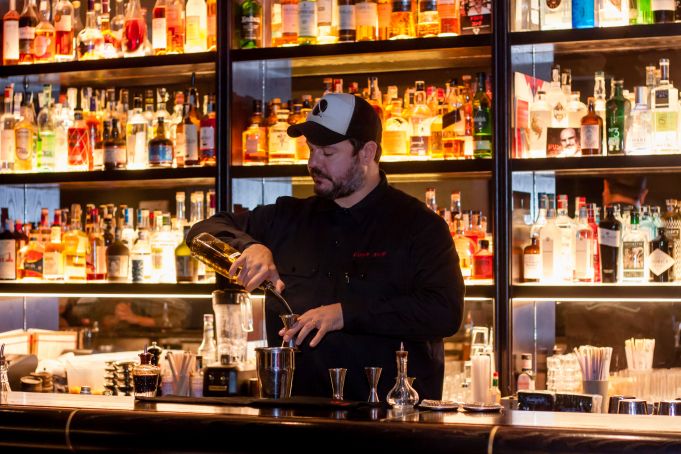 Pistolesi, who over the years has worked as cocktail ambassador for Jameson Irish Whiskey, says he entered the drinks business initially as "the bar equals fun and equals youth – it's a perfect match." However, despite all the fun there are disadvantages to orchestrating nightly parties. In addition to the unsociable hours – "we work while people are hanging out" – he says that "mornings don't exist and Monday-Tuesday is our weekend."
He is philosophical about the role of the bar in society, describing it as "the least racist space on the planet." Motioning to the myriad of bottles from all over the world, Pistolesi sees the bar as a great leveller between people. "Bartenders are the last aristocrats of the working class," he states; "we talk to the prime minister and to the beggar, it's all the same to me."
By Andy Devane
Drink Kong is open every day except Monday from 18.30 until 02.00. Piazza S. Martino ai Monti 8, tel. 0623488666.
This article was published in the December 2018 edition of Wanted in Rome magazine.
General Info
Address
Piazza di S. Martino Ai Monti, 8, 00184 Roma RM, Italy
View on Map
Patrick Pistolesi: Rome's cocktail king
Piazza di S. Martino Ai Monti, 8, 00184 Roma RM, Italy