Latest street art includes Anna Magnani portait and Pinacci Nostro project.
One of Rome's most legendary actors, Anna Magnani, features as the latest in a series of staircase portraits by well-known Italian street David "Diavù" Vecchiato, by the Nuovo Mercato Trionfale on Via Andrea Doria in the Prati district. Diavù's giant portrait of Magnani, cradling a cat in her arms, will be inaugurated on 15 June, and was created as part of the Pop Stairs project to enliven the capital's neglected public staircases.
Previous Pop Stairs works by the artist include portraits of Swedish actress Ingrid Bergman, off Via Fiamignano near the Ipogeo degli Ottavi train station; French actress Michéle Mercier, on Via Ronciglione off Corso Francia; and Italian actress Elena Sofia Ricci, on Via Ugo Bassi in Trastevere. Diavù is also known for his pop art portrait of the film director and poet Pier Paolo Pasolini, on the façade of the former Cinema Impero on Via Acqua Bullicante in Tor Pignattara.
Born in Rome in 1908, Anna Magnani achieved international fame in Roberto Rossellini's war-time drama Rome, Open City (1945). She later scooped an Oscar for Best Leading Actress, as well as four other international awards, for her portrayal of a Sicilian widow in The Rose Tattoo, in which she acted alongside Burt Lancaster.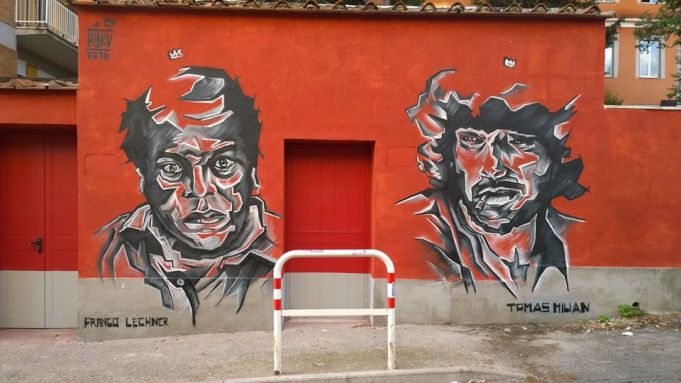 In another part of Rome, in the Pineta Sacchetti suburb near Rome's Gemelli hospital, 56 individual murals were unveiled as part of the Pinacci Nostro street art project in the north-western on 12 June. The project, financed by the local community, was designed to give back the "lost" identity to the area which, according to residents, is viewed as "just the road leading to the Gemelli." The project saw the participation of recognised street artists Carlos Atoche and Violetta Capino.
Anna Magnani photo: Vincenzo De Francesco.