Basilica to host religious and cultural events until 9 November 2024.
Rome's papal Archbasilica of St John Lateran, or San Giovanni in Laterano, will mark its 1,700th anniversary with a year of special events starting with a Mass on 9 November.
Consecrated by Pope Sylvester in 324 AD, the church is the oldest of the four main basilicas of the Eternal City, serving as the cathedral of the Diocese of Rome and the official ecclesiastical seat of the pope.
The basilica and its adjoining buildings enjoy extraterritorial status from Italy, under the 1929 Lateran Treaty which established the Vatican City as a sovereign state and regulates relations between Italy and the Catholic Church.
The magnificent Cosmatesque floors in Rome's Basilica di San Giovanni in Laterano. pic.twitter.com/seYWfA366c— Wanted in Rome (@wantedinrome) November 2, 2023
"The cathedral of Rome, Mater et Caput of all the churches of Rome and the world is a very particular point of reference for our diocese and for the Universal Church" - stated Cardinal De Donatis, archpriest of the Lateran basilica - "In it one can breathe the history of 17 centuries, of a basilica built and rebuilt three times, up to the current building from 1700."
The basilica is located on what was once the palace of the Laterani family whose members served as administrators to several Roman emperors. Around 311 it came into the hands of Emperor Constantine I who later gave it to the bishop of Rome.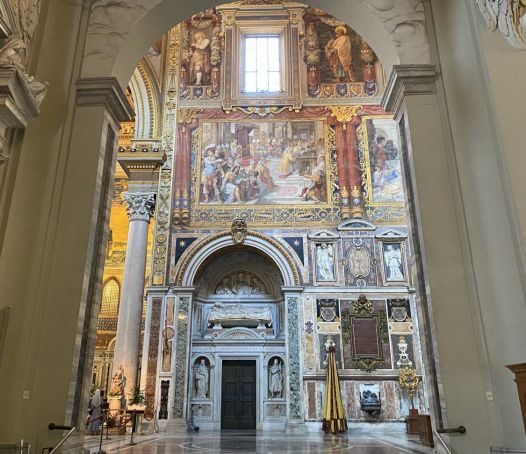 Over the centuries the basilica was altered by a succession of celebrated architects including Domenico Fontana, Giacomo della Porta, Francesco Borromini and Alessandro Galilei.
The programme of anniversary events includes a series of religious-cultural talks on the theme 'From Constantine to the Avignon exile' and a Christmas concert by the choir of the diocese of Rome on 17 December.
Photo Wanted in Rome. Basilica di S. Giovanni in Laterano, 1 November 2023.
General Info
Address
P.za di S. Giovanni in Laterano, 4, 00184 Roma RM, Italy
View on Map
Rome's Basilica of St John Lateran celebrates 1,700 years
P.za di S. Giovanni in Laterano, 4, 00184 Roma RM, Italy