Visitors will be able to see mosaics up close during six-year restoration.
A major restoration is underway of the mediaeval mosaics in the Baptistery of S. Giovanni in Florence, the octagonal landmark opposite the Duomo, in a project set to last six years.
For the first time, the public will have the unique chance of getting up-close to the 13th-century mosaics, comprising an estimated 10 million tesserae, via a 30-m high platform over eight levels.
Starting from 24 February, limited numbers of visitors will be granted access to the magnificent mosaic cycles whose biblical themes are depicted with rich colours and gold background.
The mosaics, which cover a 1,000-sqm area, were based on designs by several generations of artists, notably Cimabue and Coppo di Marcovaldo.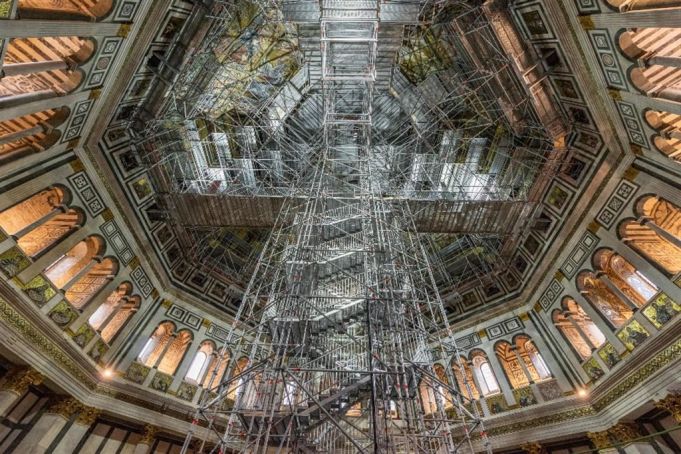 A nightmarish depiction of a horned devil is believed to have inspired The Divine Comedy by Dante Alighieri who was baptised there in 1266.
The painstaking restoration process will involve initial studies to ascertain the condition of the mosaics, using cutting-edge technology including thermal imagery, as well as reattaching any loose tessarae.
The project, which is set to cost €4.5 million, is part of a restoration of the entire building which the Opera di S. Maria del Fiore organisation has been overseeing since 2014.
The mosaics in the Baptistery have suffered damage down through the centuries due to water infiltration and even previous botched restoration attempts.
The latest restoration - the first in more than a century - is due for completion in 2028. For details of how to visit the mosaics up close see website.
Photos Francesco degli innocenti – Studio Fotografico FDI.
General Info
Address
Piazza San Giovanni, 50122 Firenze FI, Italy
View on Map
Florence restores mediaeval mosaics in Baptistery ceiling
Piazza San Giovanni, 50122 Firenze FI, Italy