Next year's marathon scheduled for April.
The 21st edition of the Maratona di Roma took place in heavy rain on Sunday 22 March, with Ethiopians coming first and second in both the men's and women's categories.
Abebe Degefa won with a time of two hours, 12 minutes and 23 seconds, crossing the finish line nine seconds ahead of compatriot Bhirhanu Addis. Italy's Jamel Chatbi came third with a time of 2:14:04, in his marathon debut.
The women's race was won by Meseret Tolwalk with a time of 2:30:25, coming 36 seconds ahead of fellow Ethiopian Fikre Wilke. Italian Deborah Toniolo came third with a time of 2:36:30.
More than 15,000 athletes from 110 different countries entered the race, which began and ended at the Colosseum, while about 65,000 people joined the non-competitive "Stracittadina" 5-km fun run in the Circo Massimo area.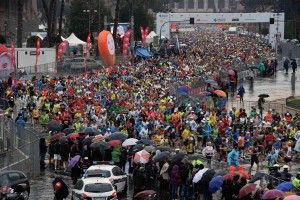 Rome mayor Ignazio Marino announced that next year's marathon will be held in April. raising the possibility that the event could be dedicated to the city's Jubilee Year. However Marino said that there is one person tasked with establishing the main events of the Jubilee: "Pope Francis."
Photo Corriere della Sera