71st anniversary of Rome massacre.
The traditional commemoration ceremony takes place at Rome's Fosse Ardeatine mausoleum on Tuesday 24 March, in memory of the 335 people killed by the then occupying Nazi forces 71 years ago, on 24 March 1944.
The ceremony at 10.00 is being held in the presence of the Italian president Sergio Mattarella who will lay a wreath at the memorial site, followed by a Catholic and Jewish prayer service, and the reading of the 335 victims' names.
This will be Mattarella's second visit to the mausoleum since his election in January: the president made a symbolic visit there just after his election.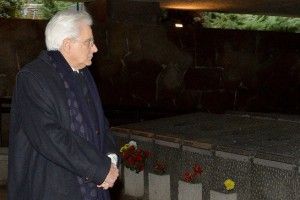 The mass killing in 1944 was in retaliation to a partisan attack on a column of marching German policemen the day before on Via Rasella, near Piazza Barberini in central Rome.
The Nazis decided that ten Italians should be executed for each German, an order soon authorised by Hitler who stipulated that it be carried out within 24 hours.