9,000 Celtic fans expected in Rome for Europa League clash against SS Lazio on 7 November.
The British embassy to Italy has strongly advised Celtic fans not to wear their club colours while visiting Rome ahead of their side's Europa League rematch with SS Lazio on Thursday 7 November.
About 9,000 fans are expected to travel to Rome after Celtic's 2-1 win in Glasgow during which Celtic supporters displayed a banner depicting Benito Mussolini hanging upside down, with the message "Follow you leader". Prior to that game some Lazio supporters had paraded through the centre of Glasgow making fascist salutes.
Scottish media has widely reported that Hoops fans could face "revenge attacks" while in Rome and the Glasgow club has warned its supporters to "keep a low profile" and "stick together in large groups, particularly in the evening."
There will also be an alcohol ban, with the consumption and takeaway sale of glass bottles prohibited on the streets of the city centre from 18.00 on Wednesday 6 November until 07.00 on Friday 8 November.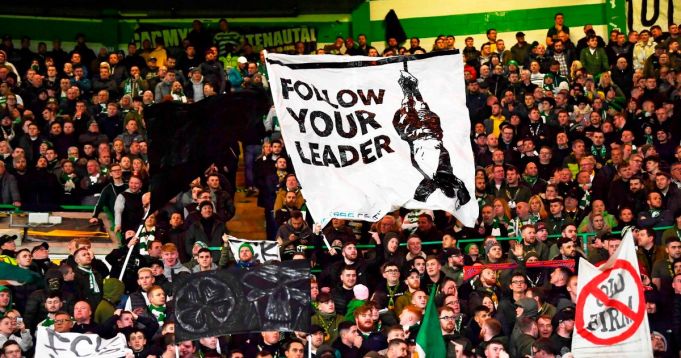 Following the display of the Mussolini banner by Celtic fans, the granddaughter of Il Duce, politician Alessandra Mussolini, called for a new crime to be introduced: Ducephobia.
Celtic fans responded by unveiling a new banner that read "Alessandra vaffanculo" (Alessandra f**k off) at Pittodrie Stadium in Aberdeen.
Ahead of the Rome game, Celtic manager Neil Lennon said: "In the main we've got a great reputation for travelling in Europe and I want that to continue, for the fans to go and enjoy the experience - and be careful, obviously. There is no animosity between the two clubs."
If Celtic win in Rome it will be an historic result for the Scottish club which has never beaten Italian opposition in Italy. The game kicks off at 18.55 and turnstiles open at 17.00.
Italian police will provide 30 buses from Piazzale delle Canestre, in Villa Borghese, with a shuttle service to Stadio Olimpico beginning at 14.00.
For full travel advice for Celtic fans see British embassy website.
General Info
Address
Viale dei Gladiatori, 00135 Roma RM, Italy
View on Map
Concern for safety of Celtic fans in Rome
Viale dei Gladiatori, 00135 Roma RM, Italy