Annual international event comes as refugee crisis escalates in Italy.
Rome's Joel Nafuma Refugee Center (JNRC), a ministry of St Paul's Within the Walls American Episcopal Church, celebrates World Refugee Day on Sunday 21 June.
The Archbishop of Canterbury's representative to the Holy See and director of the Anglican Centre in Rome, Archbishop Sir David Moxon, will preach at 10.30 at St Paul's Within the Walls, whose crypt is home to the JNRC.
The annual event, which is backed by the United Nations High Commission on Refugees (UNHCR), takes place each year on 20 June but is marked by churches and religious communities on the following Sunday.
The world is currently experiencing the worst refugee crisis in 20 years, according to the UNHCR, with many of the migrants making the perilous voyage across the Mediterranean from north Africa to Europe.
This year's event comes amid complaints from Italy that southern Mediterranean countries are being left to deal with the migrant emergency without effective support from their European Union (EU) partners.
Italian premier Matteo Renzi has repeated calls for a change to EU asylum rules as neighbouring states including France and Austria increase border security, sending African migrants back to Italy.
The crisis came to a head on 15 June at Ponte S. Ludovico on the frontier between Italy and the French Riviera, where around 30 African migrants had been camped for days, protesting over France's refusal to allow them to cross the border. Following a prolonged standoff, the migrants – mainly from Sudan, Somalia and Eritrea – were forcibly removed by Italian police and sent to the nearby Italian coastal town of Ventimiglia, where they wait their fate.
Around 150 other migrants who were supposed to travel north into France are now stranded at Rome's Tiburtina station where they are being housed in a makeshift camp set up by the Italian Red Cross, aided by local authorities and volunteers from the Communità di S. Egidio, the Catholic charity based in Trastevere.
The charities, which say they have been inundated with donations of food, clothes and toys from Romans, have opened a collection point on Via S. Ippolito 15, near the Baobab refugee centre, a few streets away from Tiburtina station.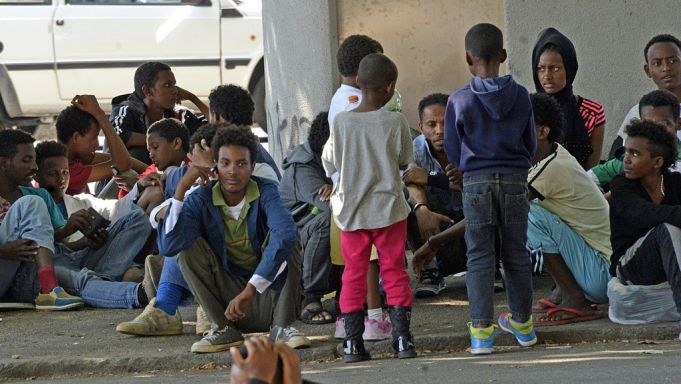 On 17 June, during his weekly general audience in St Peter's Square, Pope Francis made an unscripted appeal for migrants to be respected and given a "home where they can live without fear". He added that "people and institutions" who close doors to migrants should seek forgiveness from God.
Matteo Salvini, the leader of the right-wing anti-immigrant Lega Nord (LN) party, hit back at Pope Francis, saying he didn't need the pontiff's forgiveness, and asking: "How many refugees are there in the Vatican?"
Earlier in June, Salvini's colleague Luca Zaia, the newly-elected governor of the northern Veneto region, ordered that immigration centres be emptied and migrant housing moved away from tourist areas as the presence of refugees would have a "devastating effect" on the region's tourism. Zaia's order is in defiance of Renzi's plan to distribute tens of thousands of migrants and refugees across Italy.
The Joel Nafuma Refugee Center says that World Refugee Day is a time to honour the struggles that refugees face in their quest for freedom and peace, as well as celebrate the many organisations and ministries that work tirelessly on their behalf.
For information about the JNRC see its website and Facebook page.
See related article.