Everything in the Garden's Lovely: Discovering Empress Livia's country retreat in Rome.
Twenty-year-old Livia Drusilla must have considered herself lucky. Born in 58 BC into a wealthy noble Roman family – beautiful, intelligent, married with a son and another on the way – everything in her life was proceeding as it should to all intents and purposes.
However destiny had other plans for her. Despite being six months pregnant with a second son, a chance meeting changed her life forever. She caught the eye of Octavian – the future Emperor Augustus (27 BC-14 AD) – who apparently fell in love with her on the spot. Octavian was the great-nephew and adopted son of Julius Caesar, who had appointed him his heir in his will.
If you valued your life you didn't argue with the emperor. Livia's husband Tiberius Claudius Nero agreed not only to a rapid divorce but also to give Livia away when she married Octavian in 38 BC. Following that shock double whammy, her discarded ex vanished in a puff of smoke, never to be heard of again.
Octavian divorced his much older second wife Scribonia on the day she bore him a daughter, Julia. Scribonia's marriage to the future emperor, and that of his first wife Claudia, each lasted only two years. It was to be third time lucky for him.
Octavian married Livia shortly after the birth of her second son. Their childless marriage lasted for 51 years until Augustus's death at the age of 75. Livia outlived him, dying at the ripe old age of 86.
Considering the average life span at the time was 50 to 60 if you were lucky, their joint longevity was remarkable. Towards the end of her life, Livia's steely character came to the fore as she schemed and plotted with a ruthless resolve to ensure Tiberius, her first son by her first marriage, became the next emperor.
Livia was a good manager of household affairs. Unostentatious in her dress and manner, she treated her inferiors with consideration and even made clothes for her powerful husband. Augustus learned to trust her judgement, relying on her advice increasingly as the years passed by. She became the quiet, influential power behind the throne and was given the honour of becoming the first Roman woman to have a coin minted with her image on it in 16 BC. Livia was undoubtedly Rome's very first First Lady.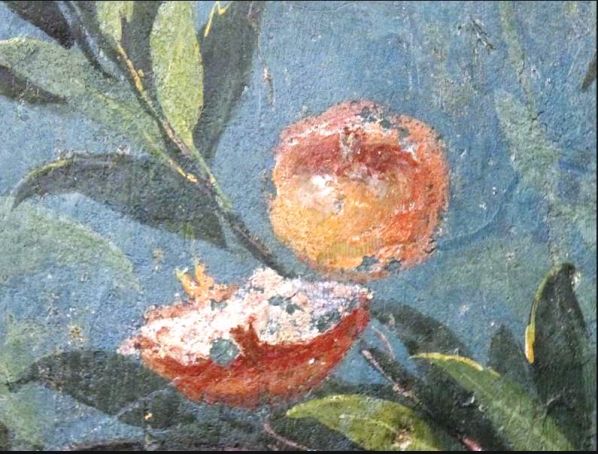 On her marriage to Octavian, Livia brought her family's country villa at Prima Porta as part of her dowry. It's about 15 kms north of Rome – a day's journey in those times. Built on a hill with commanding views over the Tiber valley, the home was called Villa ad Gallinas Albas – villa of the white chickens.
The reason for this curious name was that Livia had a dream in which an eagle dropped into her lap a pure white chicken carrying a laurel branch in its beak. Soothsayers pronounced that she should always keep a flock of white hens at the villa and plant a laurel grove in the middle of the garden. This she did. The laurels, which she tended herself, grew so rigorously they were used to make triumphal wreaths for the rest of Augustus's reign and for generations to come.
Both she and Augustus clearly enjoyed gardens and the outdoors. Most of the villa's bedrooms lead onto a courtyard or directly into the garden, which was protected on three sides by a pillared portico, leaving the south-eastern view unhindered out across the Tiber valley to Tivoli. The effect is no longer as impressive due to the built-up surroundings of today.
The couple's large garden was full of every imaginable plant available at the time, including apricots, apples, peaches, plums, pomegranates and olives. The historian Suetonius recorded that the couple "preferred porticos and groves to statues and paintings." Livia had a small private garden outside her bedroom, where she grew medicinal herbs. Could her use of them be a clue to her long life?
Augustus improved the residence, which was already spacious and elegant with its painted walls, coloured marble and mosaic floors, fragments of which can be seen today in the ruins and its little museum. In addition to its summer use, it was designed to be an all-weather retreat with under-floor heating, thermal baths and protected private winter quarters.
The villa featured three vaulted rooms, built half below ground to keep its occupants cool during the scorching hot summers. They had decorated stucco ceilings, of which fragments remain. The dining room would have been furnished with low divans for guests to recline on with tables before them as servants bought in endless platters of food such as chicken, a variety of meats, eggs, olives, vegetables, fruit, fresh or dried, and wine, invariably diluted with water (it was considered vulgar to drink it neat). One especially tasty morsel served as a starter was dormice dipped in honey and rolled in poppy seeds. Dinner parties could last as long as eight hours.
The dining room, which seated up to 16 people at a pinch, featured one of the most beautiful and charming Roman frescos ever discovered, painted between 30-20 BC. It depicted a garden scene complete with birds, flowers and fruit, all flowering and fruiting simultaneously for maximum effect.
Irises, oleanders, roses, violets, poppies, acanthus and chrysanthemums bloom in unison. Running right round the room, partridges, doves and goldfinches fly amid the sun-lit trees or feed on the fruit. A goldfinch is trapped in a small golden cage placed on a wall. The painted garden is surrounded by a picket fence with a boundary wall in the background.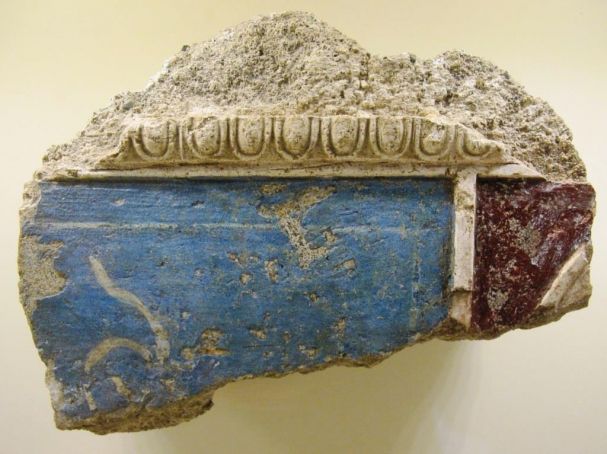 Discovered in 1863, it was eventually removed and restored and is on view at the Palazzo Massimo alle Terme museum near Rome's central Termini station, well worth a visit for the fresco alone. The poor reproduction in the villa's dining room does not do justice to the original.
The villa was inhabited and improved over the next four centuries, with better heating systems, baths, saunas and cold rooms, larger reception rooms and a swimming pool, before being abandoned and looted in the fifth century. The remains of the villa were first unearthed in the 16th century. Serious excavation work did not take place until 1863 when, in addition to the garden fresco, an imposing statue of Augustus was discovered, now in the Vatican museums. Archaeologists continue to work on the villa today.
Surrounded by a pleasant park, Livia's villa is open on Thursdays and Fridays from 09.30-13.30 and admission is free. If you don't have a car, catch a Roma Nord train from Piazza Flaminia to Prima Porta.
After visiting the villa and its little museum, followed by a walk in the park you might well feel like a bite to eat.
If you do have transport, Il Grottino di Riano on Via Pian dell'Olmo in nearby Riano is a rustic trattoria serving simple Roman dishes made from fresh locally sourced ingredients. Classic Roman food at its best, the likes of which Augustus and Livia might well have enjoyed in that beautiful dining room more than 2,000 years ago, although you won't find dormice dipped in honey on the menu.
Jenni Scott
This article appeared in the May 2019 edition of Wanted in Rome magazine.
General Info
Address
00188 Roma RM, Italia
View on Map
Villa of Livia: Rome's very first First Lady
00188 Roma RM, Italia