Divo Nerone actors and dancers claim they have been left unpaid.

The Divo Nerone rock opera faces fresh controversy after being temporarily shut down by the city in late June over a lack of license and for disturbing the peace of a convent beside its gigantic stage on Rome's Palatine hill.

Organisers of the show, which provoked an outcry from archaeologists concerned that it could damage the hill's fragile ancient ruins, are now accused of failing to pay the 50 or so actors and dancers involved in the production.
The show remains suspended until 7 August to allow organisers to fulfill their administrative and technical requirements. However lawyers representing the cast – still under contract – say the actors and dancers will not return to the stage unless they are paid first.
Divo Nerone received over €1 million of public funds in the form of a grant from Lazio Innova, a body controlled by the Lazio Region and Rome's chamber of commerce, whose mission is to assist ventures in getting off their feet.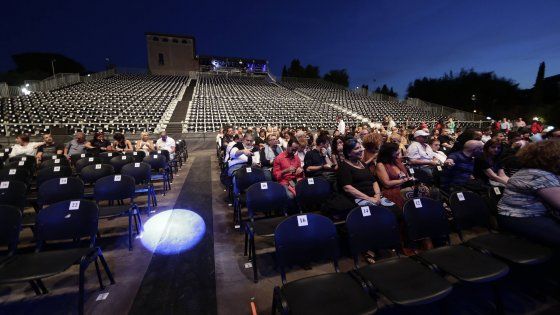 Tickets for the production, which took place on a 36m-long stage, cost up to €250. However despite seating for 3,000 spectators, the show was poorly attended and its decibel levels – on occasion – were three times higher than the legal limit, according to Italian newspaper
Corriere della Sera
.
Divo Nerone has apologised to people who have bought tickets in advance and has directed them to the TicketOne website
for details of how to be refunded.
Photo La Repubblica.