Appeal to save Rome's oldest coffee bar which opened in 1760.
Caffè Greco, the historic bar on Via dei Condotti near the Spanish Steps, faces closure after more than 250 years in business unless its management company pays more than the current €18,000 monthly rent.
The Antico Caffè Greco Srl company has until 20 March to come to a new agreement with the property's owners, Rome's
Israelite hospital
which has three medical facilities in the city, including its base on Tiber Island.
The bar's threatened closure has prompted an appeal by Italia Nostra, the organisation dedicated to the protection of Italy's heritage, to UNESCO as well as requesting intervention from the Italian culture ministry and Rome's mayor Virginia Raggi.
However the management company's president Carlo Pellegrini told Italian daily newspaper Corriere della Sera that he hopes to reach a deal with the owners before the eviction notice takes effect, even if it means buying the property.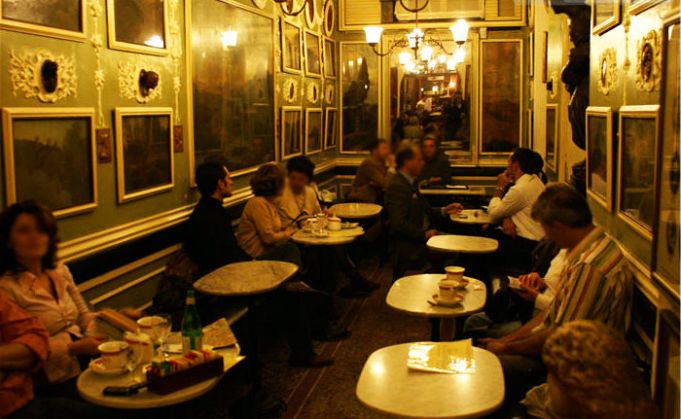 Over the centuries the bar has provided a refuge for an eclectic range of intellectuals and characters - many of them foreign - such as Hans Christian Anderson, Byron, Buffalo Bill, Casanova, Goethe, Gogol, Ibsen, Henry James, Keats, Shelley, Stendhal, Mark Twain and Orson Welles.
Caffè Greco was also frequented regularly by Italian artists including Giorgio de Chirico, whose house-museum is located nearby, and
Renato Guttuso
who immortalised the bar in a celebrated 1976 painting (pictured in cover image), today in the collection of the Museo Thyssen-Bornemisza in Madrid.
Memorabilia and mementos of its illustrious clientele cover the walls of the bar which remains on the cultural tourist trail but whose prices don't come cheap.
The bar's threatened closure comes a year and a half after Rome's landmark
Bar della Pace
closed its doors despite several years of protests and appeals.