'Archaeological Box on the Aventine Hill' opens to larger tour groups.
The remains of a magnificent Roman villa buried for almost 2,000 years at the foot of Rome's Aventine Hill can be visited on the first and third Friday of the month.
Guided tours of the so-called Scatola Archeologica are conducted in Italian but are also available on request in Chinese, English, French, German, Japanese, Russian and Spanish.
There is a maximum number of 15 people on the tours, which can only be booked online, with the meeting point at Piazza Albania 35, just off Viale Aventino.
Visits are enhanced by video projections, lights, sounds and historical narration by the celebrated duo of scientific presenters Piero Angela and Paco Lanciano, bringing the ancient villa to life once more.
Spectacular discovery
The spectacular discovery was made in 2014 during works to earthquake-proof the foundations of the 1950s-era building in Piazza Albania, not far from the Circus Maximus.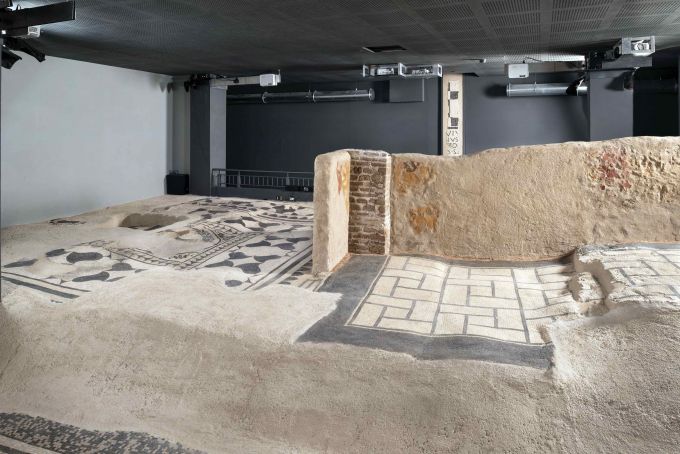 Described as "unique," the 'Scatola Archeologica' project encompasses archaeology, architecture and technology, creating Rome's first museum site within a residential complex.
Archaeologists found a series of large rooms decorated with sumptuous mosaics and traces of frescoes as well as objects from everyday Roman life such as fragments of bowls and amphorae, a hammer, kitchen ladles, sewing needles and oil lamps, alongside the remains of a stone tower dating from the sixth century BC.
After several years of excavations, and construction work to convert the development into luxury apartments, the residential complex now boasts its own underground museum.
The €3 million dig, overseen by Rome's special superintendence for archaeology, was funded by the property's owners, BNP Paribas Real Estate, in a public-private collaboration.
Daniela Porro, head of the special superintendence, described the museum as an "archaeological box" of treasure and, based on its rich decorations, it is believed that the domus belonged to a "person of power."
How to visit the 'Archaeological Box on the Aventine Hill'
Guided tours of the underground museum at the Domus Aventino last about one hour and are conducted - in Italian - on the first and third Friday every month.
Tours must be reserved exclusively online, via the Scatola Archeologica website, by sending an email to scatolaarcheologica@archeologia.it.
The visits cater to groups of 15 people at a time, at 14.00, 15.00, 16.00 and 17.00, and the wearing of masks is recommended.
If booking for a group of 15 people it is possible to organise a tour in English, French, German, Spanish, Russian, Chinese or Japanese.
Tickets cost €11 for adults, €8 for visitors aged 12 to 17, and for EU citizens aged 18 to 25. Access is free for children under 12 and for disabled visitors with a companion. For full visiting details see website.
Photos courtesy Ufficio Stampa Soprintendenza Speciale di Roma
General Info
Address
P.za Albania, 35, 00153 Roma RM, Italy
View on Map
Rome reopens remains of Roman villa hidden for 2,000 years on the Aventine Hill
P.za Albania, 35, 00153 Roma RM, Italy