Rome tempts fans with free culture after Feyenoord rampage.
The mayor of Rome Ignazio Marino has announced that Fiorentina fans visiting the capital ahead of the AS Roma-Fiorentina match on 19 March will have free entry to the city's museums.
Rome's culture councillor Giovanna Marinelli said that the objective is to promote the capital in "diverse ways" to football fans, and that the initiative would be replicated when AS Roma supporters travel to Florence.
Marino said he hopes for a "festa" after the recent "episode with Feyenoord" when hooligans attached to the Dutch football club wreaked havoc in Rome, causing over €5 million worth of damage to the city including vandalising the Barcaccia fountain.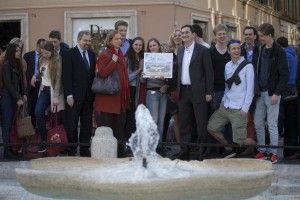 The hooligans' behaviour brought shame to Holland which responded by holding numerous fundraising appeals, including a cheque for €3,200 donated by Dutch school children to Rome on 9 March.