Mayor will be joined at 13 June parade by city administration.
This year Rome's Gay Pride (7-12 June) promises to be the city's biggest celebration yet of the lesbian, gay, bisexual, and transgender (LGBT) community.
Under the slogan Liberiamoci! (Liberate ourselves), the 21st edition of the annual event has been expanded with Pride Park at the Città dell'Altra Economia in Testaccio from 7-12 June.
This week-long cultural programme features exhibitions, meetings and shows, and is attached to the upcoming Eutropia festival. Numerous festivities are also planned around the capital for the duration of the week which culminates in the main event, the Roma Pride parade, which takes place at 15.00 on Saturday 13 June.
The parade leaves Piazza della Repubblica at around 16.00, in the direction of the Colosseum, and for the first time it will have the full, official backing of the city's administration. Rome mayor Ignazio Marino will participate in the parade, where he will be joined by all his councillors and presidents of Rome's town halls, under the banner of the city flag.
Rome's councillor for equal opportunities Alessandra Cattoi underlined the capital's commitment to dismantling stereotypes and prejudice. Cattoi said that employees of the city – from registry clerks to social workers to municipal police – are undergoing training courses to foster a respectful and appropriate approach to LGBT people.
On 21 May the capital recently joined other Italian cities such as Milan and Naples by offering civil unions to gay couples.
Since Marino came to office two years ago one of his priorities has been to make the capital a more gay-friendly place, installing rainbow-coloured Christmas lights on Via del Corso, and flying the rainbow flag over Rome's city hall during last year's Settimana Rainbow initiative to prevent and combat homophobia and discrimination based on sexual orientation.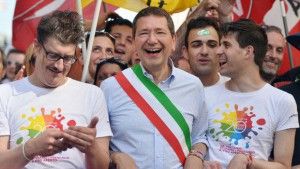 Marino also opened the 2014 Gay Pride, becoming the first Rome mayor to do so since his predecessor Francesco Rutelli attended the inaugural parade 20 years earlier, in July 1994.
For information on Gay Pride, see website.