Rome anti-fascist bookshop burnt down again
Rome residents and cultural figures gather in solidarity with La Pecora Elettrica bookstore.
A police investigation is underway after a fire gutted a renowned anti-fascist bookshop and cafè in Rome - for the second time - in the early hours of 6 November.
La Pecora Elettrica, located in the Centocelle suburb of the capital, had been due to reopen on 7 November after being devastated by another blaze on 25 April.
Police and firefighters are investigating the cause of the fire and are not ruling out it was an arson attack, possibly linked to the local drug trade, according to Italian news agency ANSA.
Traces of flammable liquid were reportedly found at the scene, and the bookstore's owners Danilo and Alessandra believe their premises was targeted by arsonists.
Police are working on the theory that the fires may be linked to the local drug trade, as the shop's late opening hours may have disturbed drug pushers operating in an adjacent park.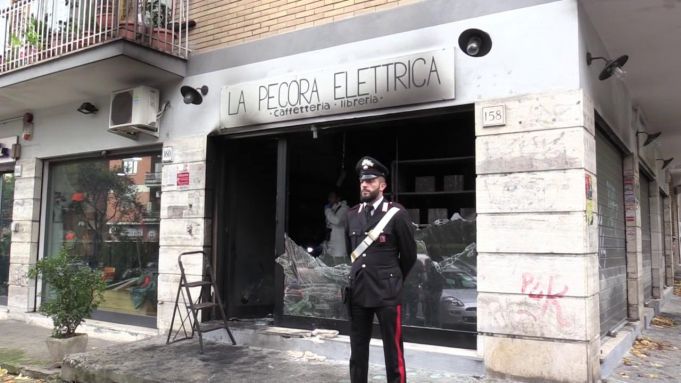 The fire has been widely condemned by cultural and political leaders, with an estimated 2,000 supporters and local residents turning up to show their solidarity with La Pecora Elettrica.Rome mayor Virginia Raggi said the fire was "disturbing" while Italy's culture minister Dario Franceschini, who visited the gutted bookshop, said it was an "incredible and intolerable act."
The Lazio Region governor and leader of the Partito Democratico (PD) Nicola Zingaretti tweeted: "To the owners I say: hang in there and fight to give back to Rome the beauty and passion of your social commitment".
Photos La Repubblica
General Info
Address
Via delle Palme, 158, 00172 Roma RM, Italy
View on Map
Rome anti-fascist bookshop burnt down again
Via delle Palme, 158, 00172 Roma RM, Italy