By Annabel Holland
In collaboration with the American University of Rome
For many travellers, it is easy to get caught up in the magnificence of Rome. However, in addition to the city's ancient sites it is worth considering day trips to destinations within easy reach of the capital, such as Tivoli. Located just an hour train ride outside Rome in the Lazio countryside, a trip to this small city enriches the experience of exploring Rome while also being convenient and affordable. One must-see attraction in Tivoli is Villa d'Este. As one of two UNESCO World Heritage Sites in Tivoli - along with Villa Adriana - Villa d'Este is an important cultural landmark with a rich history, as well as some of the most beautiful fountains, frescoes, and gardens in the region.
Villa d'Este was commissioned by Cardinal Ippolito d'Este. He began the project in 1560 although it was not completed until after his death. Built over Roman ruins, the site exemplifies the grandeur of Italian Renaissance gardens. The landscaped grounds feature incredible architectural features with their innovative designs and hydraulic systems. Similarly to Villa Adriana, Villa d'Este was built near the Roman aqueducts at the River Aniene to supply the grand water installments. The palazzo is filled with gorgeous restored frescoes.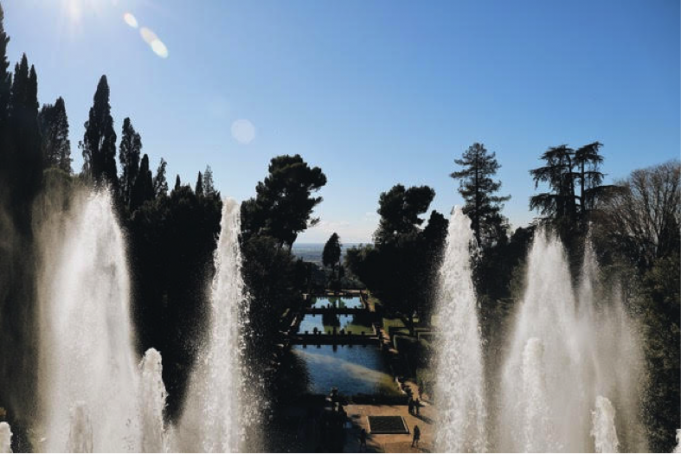 The incredible fountains and water features include Le Cento Fontane (The Hundred Fountains), Fontana di Nettuno (the largest of the fountains), Fontana dell'Organo (where water organ shows are played), Fontana di Tivoli, Fontana della Civetta (the Owl fountain) and the Rometta Fountain.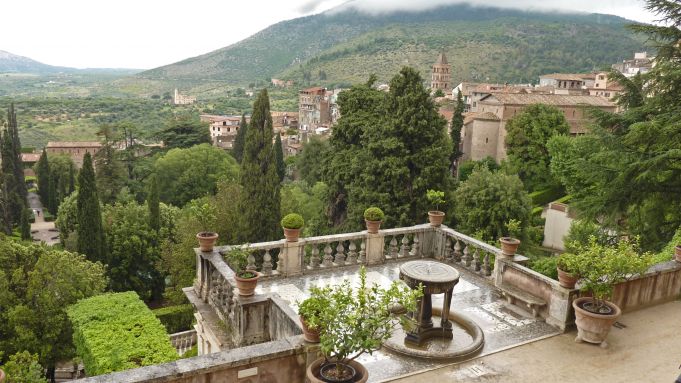 If you are thinking of planning a visit to Villa d'Este soon, it opens at 08.30 from Tuesday to Sunday all year round. In February the villa closes at 16.30 although the time varies throughout the year. It is approximately an hour-long train ride from Roma Termini to the Tivoli railway station. From the train station, cross the Aniene river and it is a 15 minute walk (1.2km) to the villa's entrance at Piazza Trento 5. Villa d'Este can be explored either on your own, for an entrance fee of €8, or by taking a guided tour of the villa and garden. Tours are offered in Italian (€90) as well as in English, French, German and Spanish (€110). To book a tour tel. (0039)0412719036 at least five days in advance. Audio guides in those languages are also available for rent (€4) at the entrance. Full information can be found on the Villa d'Este website.
Another option is to visit on the first Sunday of the month when entrance to the villa is free for all visitors. However due to crowds it is advisable to arrive early on these special offer days.
Experience the magnificence of the Italian Renaissance with an easy day trip that won't break the bank.
General Info
Address
Piazza Trento, 5, 00019 Tivoli RM, Italy
View on Map
Rich history in Tivoli: Villa d'Este
Piazza Trento, 5, 00019 Tivoli RM, Italy