The colourful career of 18th-century artist and archaeologist Robert Fagan revolved around his discoveries in Rome.
By Peter Murray
Although described as an "amateur" and "an antiquarian and a great digger", Robert Fagan, who was born in London in 1761 and died in Rome in 1816, produced some very accomplished paintings during his lifetime, most of which was spent in Italy. He painted portraits in a style close to that of Jean Baptiste Greuze, but with a harder, more angular, quality. Although born in England, his family had emigrated from the southern Irish city of Cork to London, where his father Michael ran a bakery at Covent Garden.
Talented opportunist
After studying at the Royal Academy, in 1781 Fagan travelled to Rome with the painter Charles Grignion. A talented opportunist, with considerable powers of persuasion, Fagan saw there was a living to be made in buying and selling antiquities, and in 1783 he set up lodgings at Casa dei Trinità dei Monti, near the Spanish Steps, with the painter Hugh Robinson. However he was soon travelling, spending time in Naples, and supplying Grand Tourists with genuine – and sometimes not-so-genuine – sculptures and antiquities to take home to Britain and Ireland as souvenirs. Fagan's lack of scruples did not deny him – and may indeed have attracted – the patronage of Prince Augustus Frederick (brother to the Prince of Wales and later Duke of Sussex), Sir Andrew Corbet Corbet, and Frederick Hervey, Earl-Bishop of Derry, among the most influential of the expatriate community in Rome. Although noted for his religious tolerance, Hervey nonetheless irked Vatican officials by affecting the dress of a Catholic bishop and, later in life, by conducting a scandalous relationship with the Countess of Lichtenau. Notwithstanding his wealth, doors in Rome that were closed to Hervey were open to Fagan, a Roman Catholic with strong Irish connections. Fagan also collaborated with Thomas Jenkins, another impecunious artist, British but Roman-born, who had returned to Italy some 30 years before, and who had built up a successful business as an art dealer and banker to the "milords".
Roman excavations
On 12 April 1790 Fagan married 17-year-old Anna Maria Rosa Ferri, daughter of an employee of a Roman cardinal. Two years later, when their daughter Elestina was born, the family settled in Rome. In two portraits painted around this time (one in Tate Britain, the other on loan to the Hunt Museum, Limerick), Anna Maria is depicted as a richly dressed and confident young woman. In order to support his lavish lifestyle and growing family, Fagan threw himself into the world of treasure hunting, excavating numerous Roman tombs, villas and temples. In 1792, with financial backing from Corbet, Fagan began to excavate the tomb of Claudia Semne – whose husband commemorated her with a lavish mausoleum after her death some time between 120-130 AD – at the Vigna S. Sebastiano on Rome's Via Appia. Around the same time he joined Gavin Hamilton in excavating Pantano, a site owned by Prince Borghese on Via Prenestina, where a sculpture, Diane, was amongst the treasures unearthed. Diane was sold in 1807 by Borghese to the French, and is now in the Louvre. In 1794, Hervey and Prince Frederick financed Fagan's archaeological dig at Pratica di Mare near Ostia, a project that continued until 1801 and resulted in the discovery of an imperial palace and a temple of Mithras.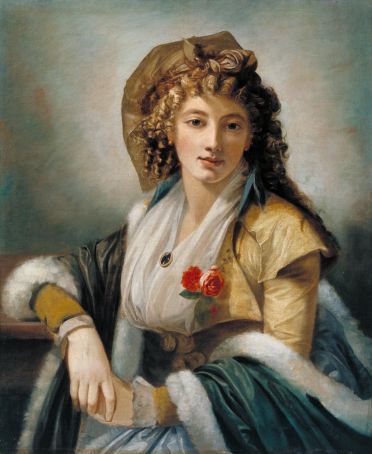 Aided by his high-level patronage and success in finding antiquities, in 1793 Fagan obtained a coveted licence from the Reverenda Camera, formerly known as the papal treasury, to excavate wherever he wished in Rome and the Papal States. The following year, working in the Campo Iemini near Torvaianica just south of Rome, he discovered a statue of Venus, a valuable Graeco-Roman work later gifted by Prince Frederick to his brother, the Prince of Wales. Venus was restored and remained in Rome until 1800, when Pius VII, disregarding local protests, granted an export license for its transfer to London. It was displayed at Carlton House, and is now in the British Museum.

Fagan also collaborated with Hamilton at a dig at Gabii, while opening other "cave" at different locations. Described as "Maistre di Milord Corbet", Fagan continued excavating and unearthed a statue of Diana on Colonna land at Rocca di Papa near Rome. At Ostia, near Tor Boacciana, he discovered large statues of Athena and Hygieia, which he sold to Thomas Hope, member of the Society of Dilettanti, a private London club which sponsors the study of Greek and Roman art. They were later bought by William Randolph Hearst, the newspaper magnate, and are now in the Los Angeles Museum of Art.

In the Vatican Museum are many works unearthed by Fagan, including sculptures of Tiberius, Fortuna and a head of Commmodus. Fragments from the temple of Mithras are in the Galleria Clementina, while a full length Ganymede is in the Galleria dei Candelabri. In the Museo Gregoriano Profano are Antinous and Hygeieia. Fagan's acumen and knowledge of the classical world enabled him to identify the sites of palatial villas likely to contain sculptures. It also informed his painting style, resulting in increasingly confident Neo-Classical portraits.

If the influence of antique sculptures was one formative influence, another, equally important, was Lady Emma Hamilton's theatrical "attitudes". The subject of many portraits by George Romney and Élizabeth Vigée-Lebrun, Lady Hamilton was famous for her theatrical poses, in which she dressed in a variety of guises, assuming roles that crossed barriers of gender and class. A former model and dancer, her life, as with Fagan's, was largely defined by self-invention. Fagan was to paint her portrait several times.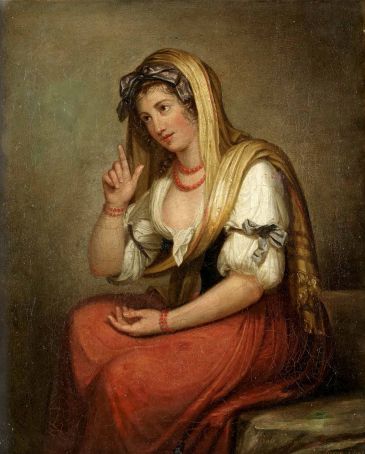 William Laffan has described Fagan's tempestuous personality, and how, as a Catholic and a fierce republican, "he naturally alienated many British Grand Tourists, even refusing to show his pictures to Lady Knight on the grounds that she and her family were 'enemies of the revolution'." Another work by Fagan, Portrait of a Lady as Hibernia (private collection), is clearly patriotic in its intention. Nicola Figgis, an expert on 18th-century Irish artists, dealers and Grand Tourists in Italy, points out that the broken harp strings and motto Erin go Bragh [the anglicised form of a Gaelic phrase used to express allegiance to Ireland] are probably the artist's response to the Act of Union [which created the United Kingdom of Great Britain and Ireland in 1801]. This nationalist feeling however did not prevent him from entering into profitable dealings with high-ranking British figures, including Emma Hamilton's older husband Sir William Hamilton, ambassador to the Kingdom of Naples.

By 1796 the invasion of Rome by Napoleon's armies was fast approaching and British citizens began to leave the city. When French troops finally arrived in Rome two years later, Fagan fled to Naples, his property being impounded by the French occupying forces. However, when things had quietened down, he made his way back to Rome, where his dealing activities were curtailed but not stopped. He was not slow about acquiring two great landscapes by Claude Lorrain, from the Palazzo Altieri, Landscape with the Father of Psyche sacrificing at the Temple of Apollo and Landscape with the Arrival of Aeneas before the City of Pallenteum. In 1799, Joseph Farington recorded that Fagan and Grignion had bought the two paintings from Prince Altieri for about £500, but they were then acquired by William Beckford, the English writer and patron of the arts, for more than ten times that amount. The paintings were smuggled to England under the protection of Lord Nelson, who by now was completely infatuated with his mistress, Emma Hamilton. Fagan was briefly imprisoned by the French for his role in the affair.

Noted for his spendthrift and extravagant way of life, Fagan was constantly in debt. In 1801 his first wife Anna Maria died, and six months later he married again, to another young Italian girl, Maria Ludovica Flajani. In a self-portrait with his second wife (Hunt Museum, Limerick), Fagan depicts himself as aloof and imperious, with his bride, dressed 'à la grecque' by his side, gazing entreatingly at him. They were to have two children, Emilia, born around 1806, and George, born some seven years later.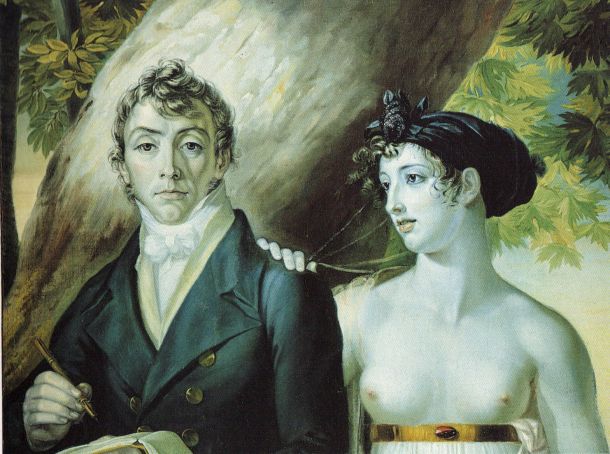 In 1807 Fagan moved to Sicily, where he continued his excavations. Two years later, he was appointed British consul-general to the island. Needless to say, his two main interests, dealing and diplomacy, were not easily reconcilable, and his career as a diplomat did not flourish. During this time, he continued to paint portraits, including a lively one of Marianne, Lady Acton, with her children Richard, Charles Januarius and Elizabeth (Ballyfin House, Ireland). He signed it "painted by Robert Fagan, His Britannic Majesty's Consul General for Sicily 1809". The portrait was exhibited at the Royal Academy in 1815. The following year, Fagan, afflicted with melancholia, ended his life by throwing himself out of a window in Rome, leaving his young and impoverished widow obliged sell his collection to the Vatican. His travel narrative, The Island of Sicily respecting its Antiquities, remained unfinished; the manuscript is now in the British Library. Fagan's son George lived on in Italy, while George's son Louis, who died in 1903, was a noted curator at the British Museum.

Published in the January 2018 edition of Wanted in Rome magazine. Peter Murray is an art historian who writes for several publications including The Irish Arts Review, where a longer version of this article was published in winter 2016-17.