The American Academy in Rome pays tribute to Milton Gendel.
Milton Gendel, who died on 11 October 2018, two months short of his 100th birthday, exerted an indelible impact on the cultural relations between Italy and the United States for almost 70 years, particularly during the postwar period. He called himself an American "outpost" in Rome, but he was perennially closer to the action than this characteristically understated term suggests.

Through perceptive, unbiased art criticism and suave cultural diplomacy, Gendel explained developments in Italian contemporary art to the American readers of ArtNews and Art in America, and introduced American artists, curators, patrons and other visitors to respective counterparts in Italy.

His various well-appointed Roman apartments were lively points of entry for many visitors. The experiences of countless legendary American artists in Rome, including Mark Rothko, Willem De Kooning and Alexander Calder, were marked by Gendel's hospitality.

Above all, his photographic archive of over 70,000 negatives, now conserved at the Fondazione Primoli in Rome, offers an unparalleled and often witty record of cultural life in Italy and its dramatic transformation in the second half of the 20th century. There are scenes of religious processions, the Tiber flooding its banks, classical sculptures shrouded in plastic in the entrance of the Galleria Borghese as the building was undergoing restoration, portraits of vendors at Porta Portese and many other memorable traces of the city and its inhabitants.
Gendel was also a master portraitist, capturing complex personalities, including Salvador Dalí, Leo Castelli, Alighiero Boetti, Iris Origo and Peggy Guggenheim, among others, in nuanced, visually compelling photographs.
Gendel arrived in Italy in late December 1949 as a Fulbright fellow and quickly made his name in advanced Italian cultural circles. Possessed of a good ear for languages, preternatural charm and a mind that distrusted easy answers, Gendel cut a dashing figure in post-war Rome.
One of the first photographs he took with his Rolleiflex after his arrival depicts his own attenuated shadow projected on the ground near the Via Appia Antica. Like many foreign visitors to the Eternal City, he paid his respects to one of Rome's most famous monuments from antiquity, but the image also evokes the ominous shadows in Giorgio de Chirico's metaphysical paintings.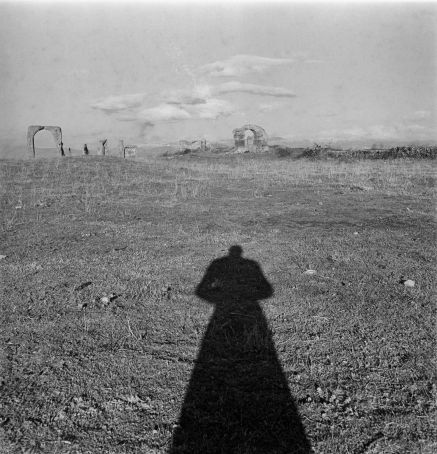 Taken up by arts patron and founder of the Galleria La Cometa Maria Laetizia "Mimì" Pecci-Blunt, Gendel gained entrée to the epicentre of international literary and artistic avant-garde activity in the Italian capital.
At the same time, novelist Sybille Bedford remembered Gendel in her memoir Quicksands (2005) as both "intelligent… in a laid-back, laconic, self-assured, non-show-off way," and a quintessentially practical-minded American. When Bedford moved into her antiquated walk-up apartment on the top floor of a commercial building near the Piazza di Spagna in the early 1950s, Gendel, worried about the makeshift electric lights, took charge of the situation. "With coils, plugs, wire and on his part a good deal of manual expertise," he "managed to create a simple, safe, efficient system of electric light indoors."
He showed his pragmatism in other ways as well. In the 1980s, he dedicated considerable effort to creating a Tiber Island History Museum in the Palazzo Pierleoni Caetani, conceiving the project, choosing objects, gathering influential sponsors and working with city officials to establish the institution. Through no fault of Gendel's, and despite its abundant merits and approval from the municipal government, the museum, which aimed to recount the history of Rome through that of the Tiber Island from antiquity to the present, remains unrealised.
In the early years, eschewing the neighbourhoods favoured by other Americans, he found an apartment in Via di Monserrato, the first of a series of grand living spaces and offices that he filled with paintings, furniture and objects, many of them found at the Porta Portese flea market in its heyday. Among his earliest acquaintances were the young international-minded abstract artists, Piero Dorazio, Mino Guerrini, and Achille Perilli, founders of Forma I, a group promoting abstract painting and sculpture in the face of considerable opposition mounted by powerful left-wing cultural officials.
Gendel went on to become a key interpreter of their platform and that of several other artists. He helped the American painter Frances McCann found the Rome New York Art Foundation, an unorthodox gallery located in floor below the apartment on the Tiber Island that he shared with his second wife Judy Montagu, who was the link between Gendel and the British Royal family.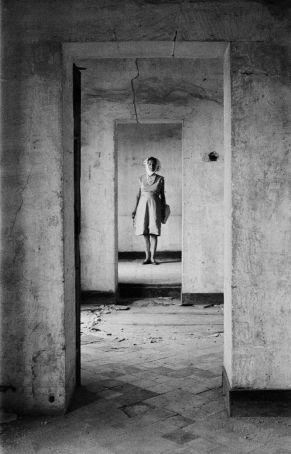 Through nine exhibitions between 1957 and 1961, critics such as Lionello Venturi, James Johnson Sweeney, Herbert Read and Michel Tapié presented various currents in international abstraction. The exhibitions not only played a decisive role in the diffusion of American art in Europe; they served as catalysts for a universalising spirit in contemporary art.
Immediately recognised as a lightning rod for avant-garde ideas and the changes transforming Italian society, the Rome New York Art Foundation was the setting of one of the opening scenes of Michelangelo Antonioni's 1960 film L'avventura, starring Monica Vitti, Lea Massari and Gabriele Ferzetti. As she waits for her friends dallying in Gendel's apartment in the floor above, Vitti walks through the exhibition Moments of Vision, overhearing snippets of conversations in American-accented English in the background.
While he never produced the single, defining work that many expected of him, Gendel's career as a photographer, journalist and art critic provides unparalleled insight into a fertile and tumultuous time of artistic and cultural exchange.
His emergence as a key Roman "outpost" is all the more extraordinary given that he might never have ended up in Rome at all. His original intention, when he received the Fulbright, was to go to China, where he had spent the final months of world war two, teaching himself how to take photographs with a borrowed Leica. The Communist government under Mao closed the borders to foreigners, foiling his plans, and Gendel opted instead for Italy.
That he remained in Rome the rest of his life was largely the result of a series of coincidences. Thanks to Cipriana Scelba, the president of the Centro Studi Americani, Gendel met the architect Bruno Zevi, who introduced him to Adriano Olivetti. Zevi provided helpful advice as Gendel developed his study about architecture in Rome following the unification of Italy.
To return the favour, and to improve his Italian, Gendel translated Zevi's classic Saper Vedere l'Architettura into English (as Architecture as Space). Olivetti, in turn, hired him as his "English-language man" to write speeches and press releases aimed at American circles suspicious of Olivetti's "socialist" ideas. In the summer of 1954, only a few years after arriving in Italy, Gendel put the finishing touches to the translation of Zevi's book, turned in an article about Alberto Burri's new work published later the same year in ArtNews, and consulted with Olivetti on various fronts. To this day, "Burri Makes a Picture," which traces the evolution of a single work of art, one of the artist's "Sacchi", remains an essential text for Burri scholars.
Gendel's outlook owed a great deal to his experience in New York in the early 1940s. After studying with art historian Meyer Schapiro at Columbia, where his classmate was Robert Motherwell, Gendel gravitated to the group of Surrealist exiles around André Breton, who had been airlifted out of Europe to escape the advance of Hitler's army.
In volume three of her diary, Anaïs Nin describes parties at Gendel's apartment on Washington Square and their colourful guests. As they came and went, they would have seen a large painting, Parturition, by the British artist Stanley William Hayter hanging in the main reception room. Hayter moved Atelier 17, the printmaking studio he founded in Paris, to New York where he taught his spontaneous and innovative techniques to a wide range of artists. Gendel and Hayter worked together on a project drawing on theories of perception and abstract motifs to develop camouflage systems for wartime defence, another sign of Gendel's creative pragmatism.
An irreverent Surrealist sense of humour permeates many of Gendel's photographs. While he is too often pegged as a society photographer, particularly of the British Royal family, his best work has the formal rigour, wells of feeling, and insight into human nature that are the trademarks of great photography.
His art criticism, analysed in a recent book by Barbara Drudi, demonstrates none of the ideological intransigence or nationalistic bias common to the writing of many of his contemporaries on both sides of the Atlantic.1 As an agile interpreter of art and society, and chronicler of the cosmopolitan vibrancy in post-war Rome, Gendel personified a universal, humanist spirit that appears all the more important to safeguard today.
By Peter Benson Miller
Peter Benson Miller is the outgoing Andrew Heiskell Arts Director at the American Academy in Rome.
This article was published in the November 2018 edition of Wanted in Rome magazine.
1. Barbara Drudi, Milton Gendel. Uno scatto lungo un secolo. Gli anni tra New York e Roma, 1940-1962 (Quodlibet, 2017). See also Peter Benson Miller and Barbara Drudi, ed. Milton Gendel. A Surreal Life (Hatje Cantz, 2011).
Cover image
Monica Incisa,
Portrait of Milton

Gendel
, 2018, pencil drawing on rag paper, after a photograph by Enrico Petrelli.