Rome marks milestone with Air Force Experience.
The Italian Air Force, or Aeronautica Militare Italiana, commemorates its 100th anniversary with a series of celebrations across Italy, including a major event in Rome.
The Air Force Experience will be hosted in the capital's central Piazza del Popolo from 24-29 March, celebrating the world of military aeronautics with stands, meetings, simulators and live music.
The six-day event will mark the centenary of the air force which was founded on 28 March 1923 by King Vittorio Emanuele III as the Regia Aeronautica, or Royal Air Force.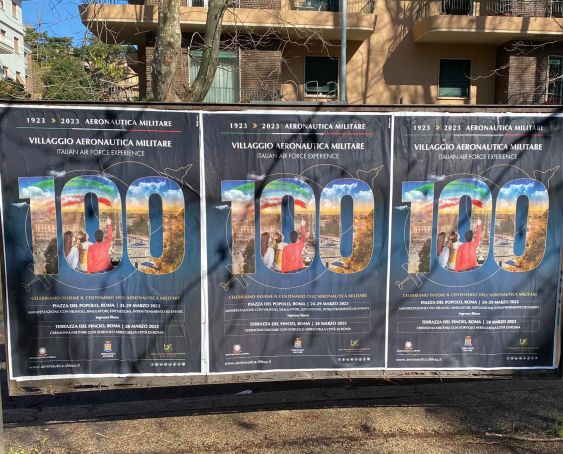 The air force adopted its current name in 1946 after Italians voted to abolish the monarchy and become a republic in a referendum following world war two.
Since its formation, the air force has held a prominent role in modern Italian military history and is best known for its acrobatic display team, the Frecce Tricolori.
Il Centenario dell'#AeronauticaMilitare entra nel vivo!
Ti aspettiamo in Piazza del Popolo (RM), dal 24 al 29 marzo 2023, al villaggio aeronautico #AirForceExperience per conoscere cos'è e cosa fa la nostra Forza Armata.
Infohttps://t.co/3ADO2jm41s#AeronauticaMilitare100 pic.twitter.com/WxGHfoY6dz

— Aeronautica Militare (@ItalianAirForce) March 20, 2023
On the day of the centenary, 28 March, there will be a ceremony on the Pincio terrace overlooking Piazza del Popolo and a spectacular flypast by the Frecce Tricolori over Rome.
The celebrations will also see the reopening of the Historical Museum of the Air Force in Vigna di Valle, on the shores of Lake Bracciano, and an exhibition charting the history of the Aeronautica Militare that will travel to more than 20 cities across Italy in 2023.
Photo credit: Checco2 / Shutterstock.com
General Info
Address
Piazza del Popolo, 00187 Roma RM, Italy
View on Map
Italy's Air Force celebrates 100 years
Piazza del Popolo, 00187 Roma RM, Italy