How Ireland's national sport has been embraced by Italians and international expats in Rome.
"It's like a cross between rugby and soccer, with a little bit of basketball!"Gaelic football might not be the most well known of sports around the world but it is one of the most physically demanding and tactical – and the club operating in Rome near the Magliana metro station is flourishing.
The club, which began seven years ago as Rome Gaelic Football Club but now plays under a regional name bracket as S.S. Lazio Calcio Gaelico, features both men's and women's teams playing competitions throughout Italy and Europe.
Origins
For those none the wiser to the game, Gaelic football was formed as part of the Gaelic Athletic Association (GAA) in Ireland in 1884. The GAA is a sporting and cultural organisation focused on promoting Gaelic games and pastimes, including the other traditional Irish sports of hurling, handball and rounders.
Like rugby union, Gaelic football is played between two sides of 15 players on a rectangular grass pitch. Teams aim to run up points by either scoring a goal, similar to soccer, with the ball scored into a net for three points or between two upright posts and over a crossbar, akin to rugby, for one point.
A spherical ball with 18 stitched leather panels is used in the game. A player keeps possession of the ball in one of two ways; either by carrying, bouncing and kicking it, or dropping the ball and toe-kicking it into to their hands, known as soloing. Alternatively, players can pass the ball to a teammate by hand-passing, or by drop-kicking – similar to a goalkeeper's punt forward in football.
Matches last for 60 minutes, divided into two halves of 30 minutes (with the exception of Ireland's senior inter-county games, which last for 70 minutes with two halves of 35 minutes). Matches are played at a fierce pace, and at times collisions between players can be fiery. It makes it a thrilling spectacle for the crowds, with championship matches in Ireland being watched by more than 80,000 people.
Irish diaspora
Since its foundation in the late 19th century, at the height of the Home Rule fight for independence from Britain, the GAA has grown to become a major influence in Irish sporting and cultural life with considerable reach into communities throughout Ireland and among the Irish diaspora, including those in Italy.
Rome Gaelic Football Club was founded in 2012 by former Rome resident Chris Taggart from County Tyrone. With funding provided by Declan Crean, the boss of Scholars Lounge Irish pub on Via del Plebiscito, the club got up and running at Roma Rugby Club on Via delle Tre Fontane, where training sessions have been held ever since.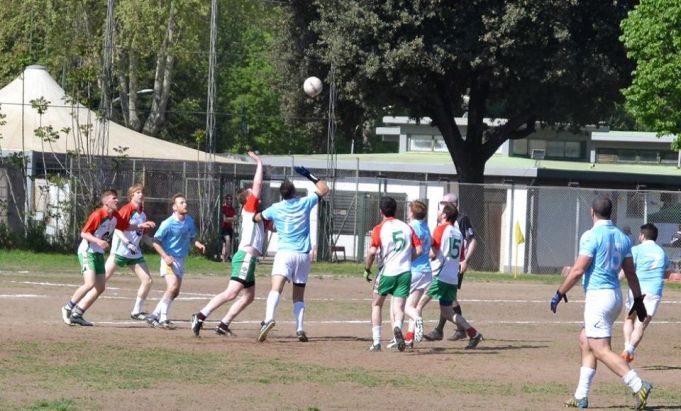 When Taggart moved to Hong Kong in 2014, he was replaced as president by Sergio Corsini from Rome. Corsini, an avid fan of the Serie A football team S.S. Lazio, proposed that the Gaelic club join the umbrella of the Società Sportiva Polisportiva di Lazio, the second largest multi-sport club in the world after FC Barcelona.Corsini secured the support of Polisportiva president Antonio Buccioni, leading the club to change its name and receive numerous benefits as part of the umbrella group. The Polisportiva has not supported the club financially but has provided marketing opportunities, including a chance to parade around the Stadio Olimpico ahead of an S.S. Lazio football match in 2016.
Scholars Lounge
Former club secretary Cormac Mac Lochlainn credits Scholars Lounge as being "massively helpful" in getting the club established, not to mention having a pool of talent available among the Irish staff and customers. "Without Declan, there wouldn't be a club to begin with," Mac Lochlainn told Wanted in Rome.
Most Gaelic football clubs in Italy carry a strong Irish contingent; unusually, however, S.S. Lazio Calcio Gaelico has a mix of international players. The club boasts expats from many English-speaking nations and Italians too.
Roman Luca Wulzer is one such player, as well as being a coach, referee, promoter and assistant to the current chairman, Italian Paolo Ialongo. Wulzer fell in love with the fast-paced sport during a weekend in Dublin four years ago. On his return to the Eternal City he immediately found the Rome club and joined.
New players
Wulzer says: "We welcome new players all the time and usually the first training session in September means lots of new recruits, which leads us to create a specific training session for newcomers.
"We are always open to new members from different nationalities and cultural background. Diversity is a key value for us. Gaelic football may be the Irish national sport but we are a melting pot: there are Italians, Irish, Brits, Americans, Germans and Poles."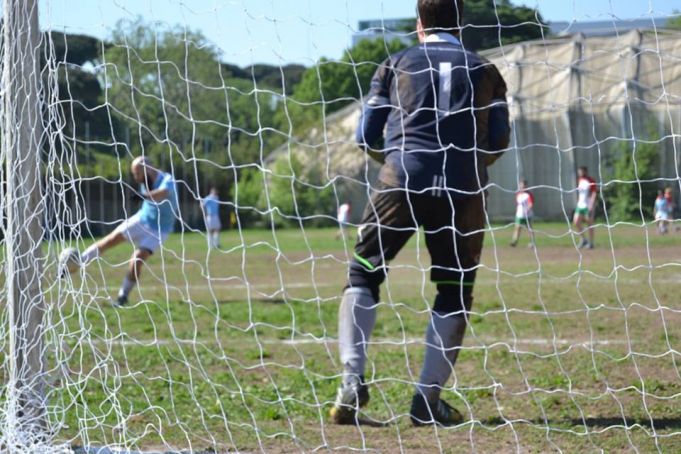 There is a core of 15 to 18 players, with other expats joining for short spells to maintain a sizeable playing squad. The club trains every Wednesday and also offers fun taster sessions for novices to understand the basics. Team members have the chance of touring European cities playing competitions, in addition to enjoying the social side of the club.Most teams are not based in Italy – mainly in France, Germany and the UK. Therefore tournaments are often held abroad. In the past year, S.S. Lazio Calcio Gaelico has travelled to Bratislava in Slovakia and Augsburg and Berlin in Germany. In a momentous occasion for the club, the first official European Gaelic football tournament in history was held in Rome last April.
GAA World Games
The Rome club has made its mark on the international stage. Three years ago, three players in the team represented the European team at the GAA World Games in Dublin and there are plans to set up an Italian national team for the upcoming 2019 world games, to be held in the Irish capital between 29 July and 1 August.
Key to the new Italian team would be Lazio's star player Brian Ó Cuív, considered one of the best players across the European nations. Half Italian and half Irish, Ó Cuív is a descendant of Éamon de Valera, the most dominant political figure in 20th-century Ireland.
In 2016, 14 teams took part in the GAA World Games, with the New York team beating the French men's team in the Native Cup Final at Ireland's national stadium, Croke Park. The European & Galician Ladies team won both of the women's competitions; the Native Plate and Shield.
The All-Ireland
However the greatest prize in the sport is the annual All-Ireland Senior Football Championship, which has competed for by 32 county teams across Ireland and Northern Ireland since 1888. Each county has distinctive colours, with supporters proudly adopting flags in support of their team during the season.
The final of the competition must be played by the 35th Sunday of the year. In 2018, the Dublin team recorded its 28th success, beating Tyrone in front of 82,300 spectators at Croke Park.
Scholars Lounge screens all the GAA matches, while for Rome residents interested in trying the real thing, S.S. Lazio Calcio Gaelico is always on the look-out for new talent.
By Ed White
Lazio Calcio Gaelico trains every Wednesday evening on the rugby fields at Centro Sportivo Tre Fontane in EUR. Those interested in playing can email Luca Wulzer at luca.wulzer@gmail.com. To find out more about the Lazio GAA team see "S.S. Lazio Calcio Gaelico" Facebook page.
This article was published in the March 2019 edition of Wanted in Rome magazine.
General Info
Address
Via delle Tre Fontane, 5, 00144 Roma RM, Italia
View on Map
Gaelic football in Rome
Via delle Tre Fontane, 5, 00144 Roma RM, Italia