Investigations underway after escalator collapses in central Rome metro station.
Rome's Repubblica metro station is closed after at least 24 people were injured, some of them seriously, when an escalator gave way at around 19.40 on Tuesday 23 October.
Most of those injured were Russian football fans travelling to see their team CSKA Moscow play a Champions League match against AS Roma in Rome's Stadio Olimpico.
The accident occurred when one of the escalators failed, causing it to accelerate excessively, dragging down about 100 people at speed. Witnesses told Italian media that Russian fans had been "singing and jumping" on the escalator in the moments before the incident.
Dramatic footage posted on Twitter by a Russian fan shows people being crushed at the base of the escalator as it runs out of control, ending with the screams of those stuck in the mangled metal steps.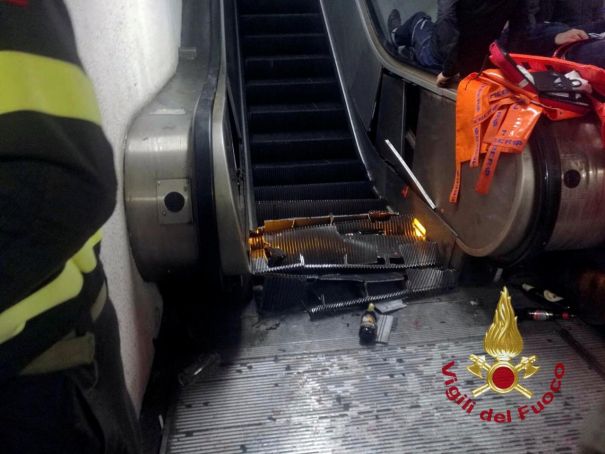 Firefighters say that most of the escalator remained intact however the last dozen steps crumpled into one another, resulting in shards of twisted metal. The injured - mainly Russians but also several Italians - include one man who risks having his foot amputated.
Two separate investigations are currently underway: one by the public prosector, the other by ATAC, the municipal public transport company. ATAC stated subsequently that maintenance work is carried out each month on all the escalators in the city's metro stations.
Rome's mayor Virginia Raggi, who arrived at the scene shortly after the accident, said the capital was "at the disposal of those injured and their families."
The incident, which has made international headlines, occurred about 12 hours after a train broke down on the city's Metro C line leading to passengers trapped on board for more than an hour before being released, reaching the exit by walking along the train tracks.
The incident at Repubblica also comes ahead of a
non-political sit-in
at city hall on 27 October, in protest over Rome's deteriorating state, and three weeks before Romans vote in a referendum whether or not to
privatise public transport
in the capital.
General Info
Address
Piazza della Repubblica, 00184 Roma RM, Italy
View on Map
Dozens injured in Rome metro escalator accident
Piazza della Repubblica, 00184 Roma RM, Italy