Bridget Riley ceiling mural 'Verve' unveiled on 4 May.
The British School at Rome (BSR) unveiled the first ceiling painting by Bridget Riley, the celebrated English artist known for her op art paintings, on 4 May.
Riley, 91, designed the large-scale work, titled Verve, using her so-called Egyptian palette whose colours include turquoise, blue, red, yellow, green, black and white.
Commissioned by the BSR, the painting covers four barrel vaults of the ceiling in the foyer of the neoclassical building which was designed by Sir Edwin Lutyens and is located opposite Villa Borghese in the city's Valle Giulia area.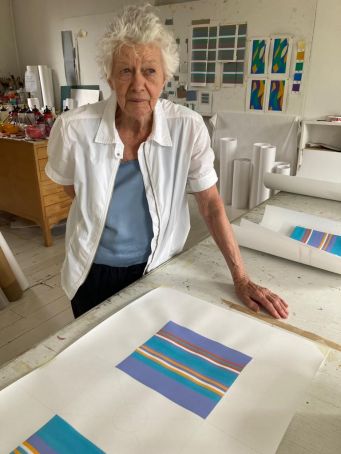 Britain's leading fine arts and humanities research institute abroad, the BSR awards residential scholarships and fellowships to artists and scholars to research and develop their work in its multidisciplinary community.
In a statement, Riley thanked the BSR for the invitation to paint the ceiling, describing it as "the beginning of an exhilarating visual chase".
The artist stated: "...I pursued this perceptual adventure and played my 'colour acoustics' with great delight. Looking up, the colour of the skies offers a glimpse of nature in her most promising and serene mood."
The day of unveiling is finally here! Here are some images of the wonderful #Verve, Bridget Riley's first ceiling painting at @the_bsr
Would you like to see the painting? Check this link: https://t.co/zhBDXPQxaj#bsr #bsrome #unveiling #bridgetriley #verve #painting pic.twitter.com/SIU5ivCotC

— British School at Rome (@the_bsr) May 4, 2023
Mark Getty, chair of the BSR Council, said Riley's ceiling painting "will adorn our entrance for decades to come, and pronounce clearly the strong relationship which exists between British and Commonwealth artists and thinkers, and the Roman and Italian world."
In 2016 the artist endowed The Bridget Riley Fellowship which provides an opportunity for a young painter to spend six months at the BSR to develop their work.
Riley's painted ceiling will be viewable to the public once a month by appointment, for full visiting details see BSR website.
General Info
Address
Via Antonio Gramsci, 61, 00197 Roma RM, Italy
View on Map
Bridget Riley creates ceiling painting for British School at Rome
Via Antonio Gramsci, 61, 00197 Roma RM, Italy